Apple is not expected to produce a 5G-capable iPhone until at least 2020, according to sources, although Samsung Electronics has already stated that it plans to release a 5G smartphone next year. A 5G network will offer significantly increased mobile data speed, but Apple will hold off — as it did with new 3G and 4G mobile networks — to wait until new network problems are ironed out. The move will put Apple behind its competition, and, with 5G, some experts say the big speed upgrade makes that wait riskier.
Bloomberg reports that Apple's "decision to sit on the sidelines may be related to the company's feud with Qualcomm, the leader in 5G-enabled chips, and its alliance instead with Intel, which won't have chips available in time to support 2019 phones."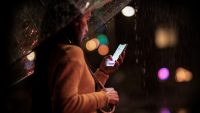 In the past, Apple has fared well even though it's waited to support next-generation wireless networks. In 2007, the first iPhone was so advanced that "its slower connection, known as 2G EDGE, wasn't a deal breaker for early adopters," and the iPhone 4S, which didn't have true 4G LTE speeds, was still a draw to consumers.
But 5G may be a big enough draw that waiting a year will be problematic. In addition to Samsung's plans, Chinese phone manufacturers Oppo and Huawei Technologies also plan to roll out 5G phones. " "Apple has always been a laggard in cellular technology," said Gartner analyst Mark Hung. "But if they wait beyond 2020, then I think they'll be impacted."
Apple is also under pressure because its newest iPhone models, which debuted in September, are not selling as expected; iPhone sales make up almost 60 percent of the company's revenue. IDC reports that the global smartphone market has slowed down for the past four consecutive quarters.
Networks such as AT&T and Verizon Communications are "likely to prioritize the marketing of 5G phones in order to get customers to migrate over as soon as possible." Not all Apple customers will be put off by the lack of 5G connectivity in 2019, and "a 2020 launch for 5G could create a super cycle of upgrades from iPhone users who would still be using an iPhone X or XS two years from now."
Apple will also need to produce enough chips for 200+ million iPhones sold annually since it is unlikely to use third party chips.
TechCrunch reports that Samsung plans to show a "proof of concept" of its 5G phone at the annual Qualcomm Snapdragon Summit. Although specs are "likely to be pretty light," Samsung and its mobile network partner Verizon did say that they plan to launch the phone in the first half of 2019.
Qualcomm's technologies in the phone include the Snapdragon X50 5G NR modem and antenna modules. Other companies that plan to debut a 5G phone in 2019 include OnePlus and Motorola, the latter via Moto Mod. Samsung already showed off a 5G home router at the 2017 Mobile World Congress, and Verizon has demonstrated 5G home service in "a smattering of U.S. cities, including Houston, Indianapolis, Los Angeles and Sacramento."