More than eight months after releasing its Milk streaming music service exclusively for Galaxy devices, Samsung has launched a new online video service in the U.S. Milk Video, a free app available for Galaxy phones via the Google Play Store, is similar to YouTube and Vimeo in that its focus is on short form video. Samsung curates content into category-specific feeds, while users can set up personal feeds and follow brands, users and groups. Favorite videos can also be shared via Facebook and Twitter.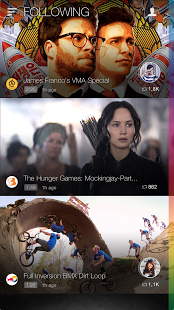 "The Milk Video launch represents the latest pivot in Samsung's media strategy. This summer, the company shut down its video storefront for smart TVs and mobile devices, which offered movies and TV shows for rent or purchase," notes Variety. "In March, Samsung debuted Milk Music, a streaming service powered by Slacker Radio with 200 programmed stations, for Galaxy devices."
The new Milk Video service is only available for Samsung smartphones: the Galaxy S3 and higher, Note 3 and higher, Galaxy S III mini and higher and the Mega.
Most of the videos initially offered are the result of 18 content partnerships with content creators including AwesomenessTV, CollegeHumor, The Onion, Vevo and VICE. There are also exclusive new series involving extreme sports and action videos from Red Bull and comedy from Funny or Die.
"The elegant, simple design makes discovery faster than ever," reads the description in the Play Store. "We're cutting through the endless sea of online video to deliver the freshest, most interesting videos on the web. And with quick, intuitive browsing and curated categories and feeds, Milk Video helps you find the videos that are trending now."
According to Engadget, "folks with capped data plans will need to keep a close eye on their usage, especially if streaming video becomes a big part of the commuting experience. As of yet, there's no way to take advantage of offline viewing, so it's not possible to simply download the videos prior to your commute."
For more information, visit the Samsung Milk Video site.
Topics:
App
,
AwesomenessTV
,
CollegeHumor
,
Comedy
,
Exclusive Content
,
Extreme Sports
,
Facebook
,
Funny or Die
,
Galaxy
,
Galaxy S III mini
,
Galaxy S3
,
Google
,
Mega
,
Milk
,
Milk Video
,
Mobile
,
Music
,
Note 3
,
Online Video
,
Play Store
,
Red Bull
,
Samsung
,
Slacker Radio
,
Smartphones
,
Streaming Video
,
The Onion
,
Twitter
,
Vevo
,
Vice
,
Video
,
Vimeo
,
YouTube