Samsung Electronics inked a $6.65 billion contract for 5G gear with Verizon Communications. With the agreement, which lasts until the end of 2025, Samsung will provide Verizon with network equipment, installation and maintenance, a boost to the South Korean company's efforts to become a major 5G supplier. According to Dell'Oro Group, Samsung supplies 13 percent of the total 5G network market sales. Meanwhile, T-Mobile, which has launched a 600MHz 5G network, debuted 2.5GHz mid-band 5G towers in almost 90 locations.
The Wall Street Journal reports that Samsung, among 5G network sales, is ranked No. 4, trailing "the top three, which include China's Huawei Technologies and the European firms Ericsson and Nokia." Huawei reported it has signed "more than 90 5G contracts, and Ericsson last month touted its 100th 5G 'commercial agreement'."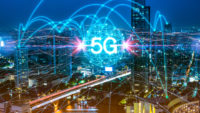 Samsung, which invested $30 billion in the U.S. market, hasn't revealed how many 5G contracts it's completed but, in 2018, stated "it aimed to capture one-fifth of the global 5G market by next year." WSJ notes that, "the firm's ambitions have been given a major boost by Washington's campaign to limit Chinese rival Huawei."
Samsung and Verizon first partnered in early 2018 "for trial runs of 5G-powered home Internet … [and] Samsung has supplied some network gear for prior generations including 4G LTE." The $6.65 billion (7.898 trillion South Korean won) "compares with the roughly 5 trillion won Samsung's network business racked up in revenue in all of 2019."
Daiwa Securities analyst S.K. Kim reported that, "last year, 5G represented less than half of Samsung's network business, of which U.S. carriers accounted for 10 percent."
VentureBeat reports that T-Mobile's 5G network covers "more than half of the United States with low band 600MHz signals that are in some cases no faster than 4G" but the company has now "activated considerably faster 2.5GHz mid band 5G towers in nearly 90 cities and towns and is preparing to reach 'thousands more' by the end of 2020." If so, says VB, that "could cement T-Mobile's 5G network as both the nation's broadest and fastest — a major bragging point for the second- or third-place U.S. carrier."
T-Mobile is one of the world's first carriers to pursue a "layer cake" strategy to 5G, blanketing large areas with slow 600MHz signals and providing mid-band signals for "most cities and towns, and short distance but fast millimeter wave signals in the most densely populated areas."
T-Mobile's acquisition of Sprint enabled it to repurpose and deploy the 2.5GHz spectrum, first in a limited fashion in New York City and Philadelphia, and later adding Atlanta, Chicago, Dallas, Houston, Los Angeles, and Washington D.C. Since then, T-Mobile added 81 more cities and towns in multiple states. The 2.5GHz spectrum "promises average speeds of 300Mbps and peak speeds of 1Gbps … up from the 200Mbps average and 600-700Mbps peaks Sprint promised for the same spectrum last year."
Other advantages of 2.5GHz is its ability to penetrate walls and reach "much further than millimeter wave 5G," which Verizon adopted.
Related:
Fastest Mobile Networks 2020, PCMag, 9/8/20
The 5G Lie: The Network of the Future Is Still Slow, The Washington Post, 9/8/20
T-Mobile Plans to Give Free Internet to 10 Million Students for Remote Learning, Homework, USA Today, 9/5/20
As the Smartphone Market Declines, 5G Models Are Set to See Continued Growth in 2020, TechCrunch, 9/9/20