Roku, maker of set-top boxes that stream video from services such as Amazon, HBO GO, Netflix and Vudu, has partnered with Chinese manufacturers Hisense and TCL to offer its software directly in new HDTV sets. Both companies will offer four Roku-powered TVs each. TCL's sets (ranging from 32- to 55-inches) are slated to ship this month, while Hisense's H4 Series (40- to 55-inches) will be available this fall. Roku first revealed its integrated TV plans at January's CES in Las Vegas.
"Instead of coming pre-loaded with a bunch of streaming TV apps like many smart TVs today, these sets will essentially give you the Roku experience without having to buy a separate box," reports Business Insider. "At first glance, it looks just like the Roku system that's been around for over a year. But Roku has simplified all the basic TV settings menus and inputs to make it as easy as possible to manage what you watch."
The Roku menu still features its universal search for accessing content across streaming services by searching via names of movies, actors or directors.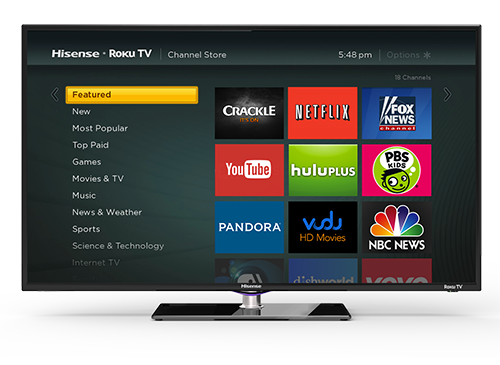 However, the displays are not on the same level as high-end TVs offered by major players such as LG, Sony and Samsung. Most of the sets are still full HD, but are targeting a more cost-conscious demographic (TCL's models, for example, run $229 to $649).
That isn't to say we won't see more integrated TVs or similar solutions from other manufacturers.
"TCL and Hisense are the only TV makers so far to announce direct integration deals with Roku," notes Multichannel News. "However, several other TV makers, including Curtis, Element Haier, Insignia (Best Buy's CE brand), Oppo, Apex, and Polaroid, have developed or are developing TV models that are compatible with the MHL-powered version of the Roku Streaming Stick."
Topics:
2014 CES
,
Actor
,
Amazon
,
Apex
,
App
,
Apple TV
,
China
,
Consumer Electronics Show
,
Curtis
,
Director
,
Element Haier
,
H4 Series
,
HBO GO
,
HDTV
,
Hisense
,
Hulu
,
Insignia
,
Integrated TV
,
LG
,
Menu
,
Movie
,
Navigation
,
Netflix
,
Oppo
,
Polaroid
,
Roku
,
Samsung
,
Smart TV
,
Sony
,
STB
,
Streaming Stick
,
Streaming Video
,
TCL
,
Television
,
TV
,
Universal Search
,
User Interface
,
Vudu