Through an update to the Roku Direct Publisher Platform this week, Roku introduced new tools designed to make it easier for publishers to deliver streaming video content via Roku media players without the need to write any code. Creators merely go through a few steps in order to create a video feed and make their channel go live on Roku. The platform is also supported by Brightcove, JW Player, Kaltura and Ooyala. Roku, which currently touts more than 10 million monthly active users, is expanding its advertising options by offering to address video ad sales for publishers.
The company has not only made the publishing experience simpler, but its platform now ties into Roku Search, and its dashboard has added more detailed metrics.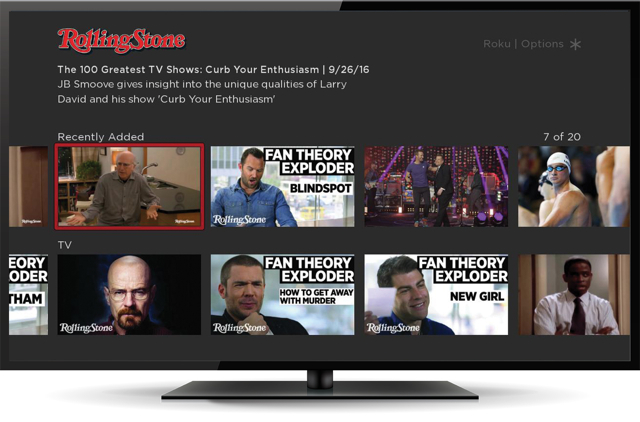 "By making it easier for publishers to go live on Roku, consumers will have more options available outside of paid subscription services, like Netflix or Hulu, or those offering rentals," explains TechCrunch. "Instead, these newly added channels can generate revenue through ads Roku sells, without the content creator necessarily being involved. Creators keep 60 percent of the net ad revenues, while the rest goes to Roku."
Some of the companies that have already turned to Direct Publisher to launch channels include online comedy distributor and MCN Above Average, music video channel Baeble Music, online video network Super Deluxe, fail video compiler FailArmy, and publications such as Cracked, Mashable, Rolling Stone and Us Weekly.
Roku is investing in free, ad-supported streaming since it is "the fastest-growing segment on its platform, and now accounts for half of the top 250 channels," notes TechCrunch. "More than 30 percent of all streaming ad impressions now flow through Roku, the company claims, citing Freewheel Q2 internal data."
Topics:
Above Average
,
Advertising
,
Baeble Music
,
Brightcove
,
Channels
,
Comedy Dynamics
,
Cracked
,
Direct Publisher
,
FailArmy
,
FreeWheel
,
Great Big Story
,
Hulu
,
JW Player
,
Kaltura
,
Mashable
,
MCN
,
Metrics
,
Movies
,
Music Videos
,
Netflix
,
News
,
Ooyala
,
Publishers
,
Roku
,
Roku Direct Publisher Platform
,
Roku Search
,
Rolling Stone
,
Streaming
,
Subscription
,
Super Deluxe
,
TV Shows
,
Us Weekly
,
Video