To be able to bring real-time feedback to every step of the filmmaking workflow has been both the Holy Grail of production and an impossible dream. When Bradley Weiers began to work in film production, he chafed at the delayed feedback and found that the real-time ecosystem of game production was a better fit. Now head of immersive storytelling at Unity Technologies, Weiers said that for the first time, he believes he can connect his first love, film, and the preferable tools of gaming.  "There's a bridge to cross over," he suggested during a panel at NAB 2019.
Digital Monarch Media chief creative officer/co-founder Habib Zargarpour has been involved in virtual production — which marries CG elements and physical elements in real-time — since 2010. When he started working at ILM, he said he thought visual effects were done in real-time. "From the beginning, I wanted to get into something real-time," he said. "But the vision was to see that final quality in real-time. I thought that was really far away."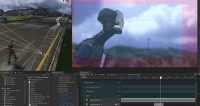 Animatrik Film Design chief technology officer Brett Ineson said his company's main focus was creating digital versions of actors. "Once AR became a possibility on a film set, cameras became equally important as the actors," he said. "In the early days, there was a lot of experimentation. Now, the entire workflow can use virtual production techniques." For "Warcraft," Animatrik created digital characters that played opposite live-action people in costume — all in-camera via virtual production. "To do that at that scale really blew our minds," he said.
DigitalFilm Tree chief executive Ramy Katrib dubbed himself a "newbie" to virtual production. "I've been on a steep one-year learning curve with what's possible with Unity," he said. His goal is to apply virtual production to the kind of material his facility handles: scripted TV, both live action and animated. "The notion that showrunners and writers can have these types of storytelling tools is profound," he said, "but the vast majority don't know what virtual production is."
Katrib has also identified ways that virtual production could benefit some shows his company works on. "I see the variance between the vision and what's produced," he said. "Taking this to TV struck me as a no-brainer. Even in the writers' room, if you have an idea, you can create a living storyboard. Now imagine showing it to cinematography, costume, makeup. It unifies all those disciplines and puts everyone on the same page."
When it comes to adoption of virtual production, Ineson said that improved technology has helped. "We're bringing tried and true practices," he said. "With education, people learn when it is viable and helpful." Zargarpour said that a potential client only understands the potential of virtual production when it's demonstrated with their own content. Katrib said his challenge is to educate the potential client. "I tell them, this isn't a game engine, it's a storytelling engine," he said.
Another compelling point is the value proposition. Zargarpour noted that during pre-vis on Tom Hanks' "Greyhound," virtual production cinematographer John Bruno sat in one room and six Maya artists in another. "John shot 300 shots and the artists completed 12," he said.
Topics:
Animatrik Film Design
,
Augmented Reality
,
Bradley Weiers
,
Brett Ineson
,
Digital Monarch Media
,
DigitalFilm Tree
,
Gaming
,
Greyhound
,
Habib Zargarpour
,
ILM
,
John Bruno
,
Maya
,
Movie
,
NAB 2019
,
Production
,
Ramy Katrib
,
Real Time
,
Scripted TV
,
Television
,
Tom Hanks
,
Unity Technologies
,
Virtual Production
,
Visual Effects
,
Warcraft