Hollywood is betting that mobile screens are ready for higher profile short content. Jeffrey Katzenberg and Meg Whitman founded Quibi to focus on mobile content. Together they raised $1 billion from investors that include Hollywood studios Disney, MGM and WarnerMedia among others. The goal is to recruit A-list talent, which explains why Antoine Fuqua (who directed "Training Day") is producing "#FreeRayshawn," starring Laurence Fishburne. The $15 million series is comprised of 10-minute episodes only viewable on smartphones.
The Wall Street Journal notes that "Quibi's other selling point to producers is financial." It holds an exclusive license to the content for seven years but, after two years, "its producers have the right to repackage it and shop it elsewhere." Fuqua, for example, is shooting "#FreeRayshawn" with lots of extra footage; he plans to re-edit it as a feature film and sell it to a different distributor.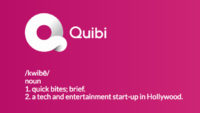 The film/TV industry doesn't have a great track record of creating successful content for the Internet. But, now, with high penetration of smartphones and improvements in streaming technology, some players in Hollywood and elsewhere are reassessing short-form content for phones.
Snap has gone all out on made-for-mobile shows, "introducing a slate of serialized originals last fall" and recently revealed that it "will announce up to 10 more of these 'highly concentrated' shows in September."
Even Netflix, known for "supersized" episodes, has recently debuted original content with episodes as short as 15 minutes. Two such shows — "Special" and "It's Bruno"— were Emmy nominated in the category of "outstanding short-form comedy or drama series." (The Emmy category itself was created in 2016.) The streaming platform said, however, that it isn't planning to promote short shows in their own category.
In this Emmy category, another nominee is a SundanceTV series "State of the Union," 10-minute episodes written by Nick Hornby. Disney+ streaming service, set to launch in November, will also "feature multiple capsule shows, including a new vehicle for the Muppets." Cable channel FXX will unveil "Cake" in September, comprised of "animated and live-action shorts, and intended as an incubator for larger-scale shows."
Topics:
#FreeRayshawn
,
Antoine Fuqua
,
Disney
,
Disney Plus
,
Emmy Awards
,
FXX
,
It's Bruno
,
Jeffrey Katzenberg
,
Laurence Fishburne
,
Licensing
,
Meg Whitman
,
MGM
,
Mobile
,
Movies
,
Muppets
,
Netflix
,
Nick Hornby
,
Quibi
,
Short-Form Content
,
Smartphones
,
Snap Inc.
,
Special
,
Streaming
,
SundanceTV
,
Tablets
,
WarnerMedia