Qualcomm has revealed a new plan for AR glasses that can connect wirelessly with smartphones. This latest version of the company's Smart Viewer is a reference design that can be used by manufacturers to create commercial headsets and is aimed at creating "immersive experiences that unlock the metaverse," the company says. The new Wireless AR Smart Viewer has a higher-powered chipset and offers Wi-Fi 6/6E and Bluetooth tethering instead of a USB-C cable. Developed by Chinese manufacturing company Goertek, the new Smart Viewer is currently being made available to handful of Qualcomm's manufacturing partners.
Like its predecessor, the new Wireless AR Smart Viewer "connects to a phone or computer and delivers mixed reality experiences with full head and hand tracking, using tracking cameras and projections powered by micro-OLED displays," reports The Verge, which notes the advances come at a price: shorter battery life.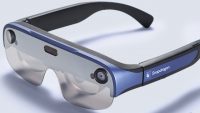 Qualcomm AR/VR chief Hugo Swart told reporters "the most demanding virtual experiences could drain the headset's 650mAh battery in 30 minutes," per The Verge, indicating "consumer-ready versions might be designed differently" to ameliorate that problem.
The Wireless AR Smart Viewer has been upgraded to Qualcomm's Snapdragon XR2 chipset, which offers improved vision processing over the XR1. Qualcomm says latency will be only 3ms "between the glasses and the connected phone or PC, as long as your phone or PC includes Qualcomm's FastConnect 6900 chip," writes The Verge, noting Swart pegged "the actual 'motion to photon' latency" at "under 20ms, just clearing the threshold for a comfortable mixed reality experience."
Shanghai's SeeYA provides the display for 1920×1080 per eye and refresh rates of up to 90Hz, with a no-motion-blur feature, Qualcomm said in an announcement. Dual monochrome cameras and one RGB camera on the Smart Viewer enable six-degrees of freedom (6DoF) head tracking and hand tracking with gesture recognition.
However, this new model drops the field-of-view from 45 degrees to 40 degrees diagonal, "substantially smaller than the non-consumer-focused Magic Leap 2, which offers closer to 70 degrees," says The Verge, lauding its "slimmer profile than either the wired Smart Viewer or most competitors."
At 115 grams, "it's a little heftier than the 106-gram Nreal Light glasses, a bit lighter than the rumored 150 grams of Apple's AR/VR headset, and far svelter than VR headsets like the 503-gram Meta Quest 2," The Verge reports
"The glasses share processing between the glasses and phones, which is a relationship Qualcomm thinks is the way forward for lower-cost, everyday AR glasses of the future," says CNET.
Topics:
Apple
,
AR Glasses
,
AR Smart Viewer
,
Augmented Reality
,
Battery Life
,
Bluetooth
,
Cameras
,
China
,
Gesture Recognition
,
Goertek
,
Hand Tracking
,
Hugo Swart
,
Magic Leap 2
,
Meta Quest 2
,
Metaverse
,
Mixed Reality
,
Nreal Light
,
OEMs
,
Qualcomm
,
SeeYA
,
Shanghai
,
Smartphones
,
Snapdragon XR2
,
Virtual Reality
,
Wi-Fi 6
,
Wi-Fi 6E
,
Wireless