President Biden kicked-off his three-day visit to South Korea with a trip to a Samsung Electronics semiconductor plant, emphasizing an interest in strengthening supply chains and boosting competition with China in the technology sector. Biden remarked that the U.S. wants to shore-up business ties with allies including South Korea to offset the influence of  "countries that don't share our values." Located in Pyeongtaek, the plant churns out some of Samsung's most advanced memory chips and is the largest semiconductor manufacturing facility in the world. South Korean President Yoon Suk-yeol was present, marking the pair's first in-person visit.
South Korea, Japan and Taiwan are all central to U.S. efforts to mitigate against China's rising technology infrastructure and can provide important leverage in critical technology areas including semiconductors and the batteries needed to power electric cars.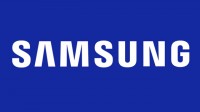 The Seoul-based Samsung last year unveiled plans for a $17 billion chip-making factory in Taylor, Texas, for which the White House says the Pyeongtaek plant is a model. Samsung has for years been manufacturing chips at a plant in Austin, Texas.
Biden has been backing a bill to enhance U.S. competitiveness with China, pushing Congress to approve roughly $52 billion in funding for domestic semiconductor production and R&D. The House and the Senate are currently reconciling the different legislative iterations passed by each chamber.
U.S. Secretary of Commerce Gina Raimondo joined Biden on the tour, which marked Samsung chief Lee Jae-yong's "highest-profile public appearance since he was released on parole in August last year following a bribery conviction," according to Reuters, which described the Samsung chip complex as "the size of 400 football fields," with "two production lines for DRAM and NAND flash memory chips as well as chip contract manufacturing, and a third line to be completed this year."
According to estimates by the Semiconductor Industry Association, South Korea accounts for more than 40 percent of the world's memory-chip manufacturing capacity, including two of the  biggest memory chipmakers on the planet: Samsung and SK Hynix. "More than three-fourths of U.S. semiconductor imports came from Asia last year, according to the U.S. Census Bureau's trade data," The Wall Street Journal reports, adding that "the Asian allies are also essential to building a more resilient supply chain that has been racked by shortages during the pandemic."
Samsung and Taiwan's TSMC "are the only two contract chipmakers capable of producing the industry's most cutting-edge semiconductors with the smallest transistors," WSJ writes, noting those high-end processors are "needed to fuel next-generation devices and technologies like artificial intelligence, 5G and high-performance computing."