Qualcomm has acquired Wilocity, a Sunnyvale, California-based startup that works with a high-speed wireless technology called WiGig, which operates at a much higher frequency than Wi-Fi. WiGig has been considered as a potential replacement to wires for sending videos between components in the same room. It could transfer multiple 4K video streams, while Wi-Fi can only handle one. The bet is that WiGig will also become a standard feature on smartphones and other mobile devices.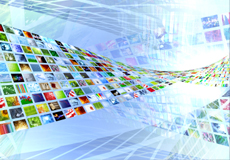 "Financial terms weren't disclosed," reports The Wall Street Journal. "Online publication TheMarker in May reported that a deal was imminent, putting the price at $300 million. Qualcomm officials wouldn't comment on that figure."
"Wi-Fi operates in two main frequency bands, 2.4 gigahertz and 5 gigahertz," notes the article. "WiGig operates at 60 gigahertz, and is estimated to send data at three to four times the rate of the fastest version of Wi-Fi."
According to the press release, Qualcomm "has taken two major steps to enable the industry to deliver multi-gigabit wireless with 60GHz technology for mobile, computing and networking devices. First, Qualcomm has completed its acquisition of Wilocity… Second, the company is delivering a family of tri-band platforms that combine Qualcomm Atheros, Inc.'s Wi-Fi and WiGig solutions to significantly increase performance and enable cutting-edge wireless applications."
The acquisition will provide Qualcomm with a lead in WiGig, since "Wilocity has been shipping in devices for six months," said Patrick Moorhead, analyst at Moor Insights & Strategy, adding that Intel and Broadcom will follow close behind.
"WiGig will be incorporated in products — based on the Qualcomm Snapdragon 810 processor — that will be able to communicate using both Wi-Fi and WiGig technologies," notes WSJ.
Topics:
4K
,
802.11ad
,
Broadcom
,
California
,
Chips
,
Chipset
,
Data
,
Devices
,
High Speed
,
Intel
,
Mobile
,
Moor Insights & Strategy
,
Networking
,
Patrick Moorhead
,
Phone
,
Processor
,
Qualcomm
,
Qualcomm Atheros
,
Smartphone
,
Snapdragon
,
Streams
,
Transmission
,
Video
,
Wi-Fi
,
WiGig
,
Wilocity
,
Wireless