Qplay, the video streaming device and app startup launched by TiVo co-founders Mike Ramsay and Jim Barton, will close for business this Friday. The San Jose, California-based company was founded in August 2012 and its $49 Qplay adapter was introduced in February. The startup's iPad app provided access to free online video sites — such as Vimeo, Yahoo and YouTube — and curated clips based on user preferences. It did not, however, provide access to subscription services.
"Unfortunately, it is not possible for us to keep developing and running the service," wrote Ashley Martin-Golis, Qplay marketing director, in a blog post over the weekend. "We want to thank our investors and partners for giving us this chance, and we especially want to thank you, our users, for giving us a try."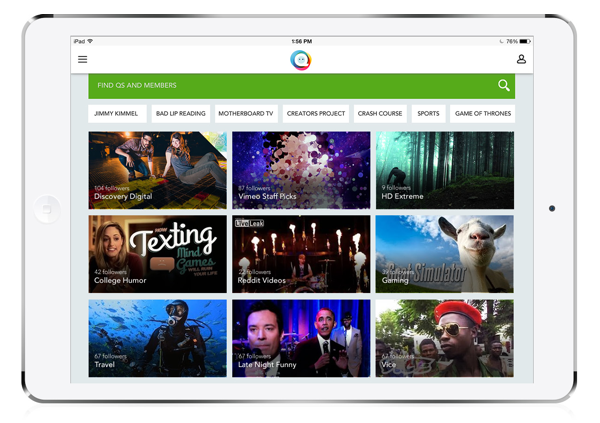 "The Qplay device did not let users access subscription-video services, like Netflix, Amazon.com Prime Instant Video or Hulu Plus — which limited its appeal compared with competing set-top devices like Apple TV, Roku and Google Chromecast," reports Variety.
"For that reason, and due to the competitive nature of the streaming device ecosystem, the $49 Qplay TV adapter was a tough sell," adds TechCrunch. "Which is why the company unsurprisingly released a free iPad app with similar functionality. Even so, it seems like that wasn't enough to get viewers interested."
While Qplay may have failed to compete with an increasing number of video apps and streaming players, Steven Rosenbaum writing for Forbes suggests that the idea may have been just a bit too early — and Ramsay and Barton were on the right track in terms of curation.
"Clearly Qplay's curation vision was spot on," he writes. "Would the channels have emerged as valuable with more signals, or with a layer of human curation? Sadly, we'll never know. But TV is just in the early innings of innovation into TV 2.0 — so I wouldn't expect you've heard the last of Mike Ramsey and Jim Barton."
Topics:
Amazon
,
Amazon Prime
,
Apple TV
,
Ashley Martin-Golis
,
California
,
Channels
,
Curation
,
Google Chromecast
,
Hulu Plus
,
iPad App
,
Jim Barton
,
Mike Ramsey
,
Netflix
,
Online Video
,
QPlay
,
Qplay TV Adapter
,
Roku
,
San Jose
,
STB
,
Steven Rosenbaum
,
Streaming
,
Subscription
,
Television
,
TiVo
,
TV
,
Video
,
Vimeo
,
Yahoo
,
YouTube