Last week, wireless startup Nitero unveiled its first WiGig radio silicon. The low-power WiGig chip is targeted at smartphones, tablets and TVs, specifically to transfer large files in a short range at extremely fast speeds. For example, the WiGig chip can stream 4K video from a TV to a smartphone using high frequency 60GHz waves. Nitero's 28-nanometer WiGig chip reportedly consumes 10 times less power than competing chips from Wilocity.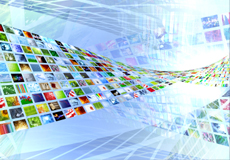 Currently, WiGig chips are used mainly in PCs and desktop docking hubs. However, Nitero believes these chips are really meant for smartphones and tablets. The multi-gigabit speeds could turn these devices into portable media hubs. Transferring huge files, such as 4K video files, will happen in an instant.
Nitero's WiGig chip will debut in the third quarter of this year. Wilocity, Nitero's main competitor in the WiGig business, will also launch its own set of WiGig chips designed for smartphones around the same time.
According to GigaOM, Nitero consumed 150 milliwatts of power in 4K video streaming tests, while Wilocity's Sparrow chip consumed more than 200 milliwatts. When the chips were pushed to their 4.6 gigabits-per-second peak speed, Nitero's WiGig chip used 300 milliwatts less than Wilocity's.
Consumers should be able to see WiGig technology from Nitero and Wilocity very soon. Earlier in July, Qualcomm announced that it was buying Wilocity to make WiGig technology part of its Atheros Wi-Fi product line and its Snapdragon mobile processors. Intel is also integrating WiGig into its own products.
Topics:
4K
,
Atheros
,
Chip
,
Desktop PC
,
Docking Hub
,
Efficiency
,
FAST
,
High Speed
,
Intel
,
Media Hub
,
Mobile
,
Nitero
,
Power
,
Qualcomm
,
radio silicon
,
Smartphone
,
Sparrow
,
Streaming
,
Tablet
,
Transfer
,
TV
,
Video
,
Wi-Fi
,
WiGig
,
Wilocity
,
Wireless