Twitter and Facebook users will soon be able to do their online shopping directly from the social networks. The two companies are investing in e-commerce in an effort to keep users on their apps and sites. Twitter acquired CardSpring, a mobile payments infrastructure company, which will allow users to load coupons and discounts to a credit card. Facebook is also testing a new buy button that will open a dialog box to make purchases from Facebook posts.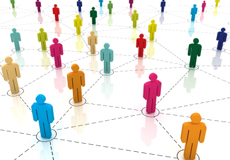 CardSpring, Twitter's newest acquisition, is a startup that enables app developers to create card-linked services with the company's API. Twitter will most likely use CardSpring to give users more access to coupons and loyalty programs. By simply clicking a button on a retailer's tweet, a Twitter user would be able to add that discount or special offer to a stored credit card. Then, when the user pulls out that credit card at the retailer's store, the discount or special offer will automatically be applied.
Twitter has tried similar coupon offerings before. Last year, American Express cardholders could tweet a certain hashtag to get a discount automatically added to a linked credit card. Starbucks also partnered with Twitter to give users the opportunity to buy a gift card by tweeting at a specific Twitter account.
Even though it's not exactly direct purchasing power, the CardSpring acquisition gives Twitter plenty of opportunity to continue expanding into e-commerce. The coupon feature could be used to increase advertising rates for retailers who want to embed a button in their promoted tweets. Also, location-based deals could be made possible by the CardSpring product. Direct purchasing power isn't far behind.
"The source confirmed that Twitter's goal is to roll out a feature that would allow users to purchase a product right from a tweet in time for this holiday season," reports Re/code.
Meanwhile, Facebook is already trying to make direct purchasing possible for its users. The social network has begun testing a buy button on a select few small and medium-sized retailers, such as the watch making company Modify Watches. The new button links to a dialog box that takes payment and shipping information, and Facebook will then forward that information to the merchant.
Facebook already runs a payments service that is used mostly for buying virtual goods for Facebook games, according to The New York Times. Now, the company hopes to keep users on their website and apps even longer, and make online shopping as easy as a click in the News Feed.