On November 22, Disney-Pixar will release the animated feature "Coco," which takes place during Dia de los Muertos, a Mexican holiday honoring the dead. Pixar has also debuted its first VR experience, "Coco VR," created in partnership with Oculus. "Coco VR" is available on Rift headsets, with a Gear VR version out next week. Pixar dubs the experience a "social adventure" where participants embody skeletal characters and explore the Land of the Dead and the holiday, to learn about the film, the festival and the traditions.
"It's an opportunity to step inside a Pixar film and go on an adventure with a friend," said Pixar producer Marc Sondheimer. "It's the idea of being a skeleton in the world, [while] seeing other skeletons." Engadget reports that the experience is "whimsical, educational and, surprisingly, fun."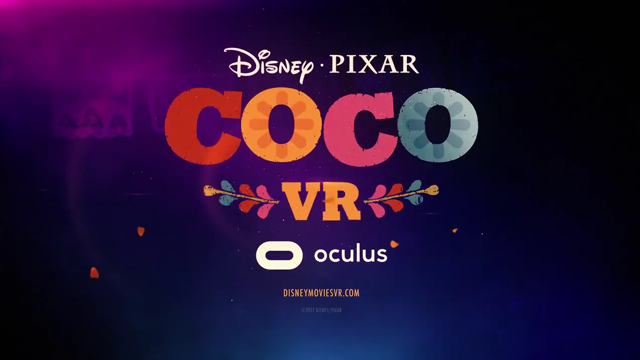 The Rift can accommodate up to four participants and the Gear VR supports two. "Coco VR" begins with meeting Miguel, the star of the movie, in front of an ancestral altar, and when he leaves the room, the viewer is standing in front of a mirror, transformed into a skeleton in the Land of the Dead. Concept art and film storyboards can be found in dresser drawers; a town square cinema shows Pixar footage; and the art gallery shows Mexican art. At the end, a fantastical gondola ride takes the viewer above the Land of the Dead.
"The social aspect is really important," said Oculus VR head of experience Colum Slevin. "I love the idea of giving people room to breathe and spend time with a friend without the intensity or the artificial barrier of having to complete tasks." Unlike Pixar's traditional linear storytelling, the participant can go wherever she wants.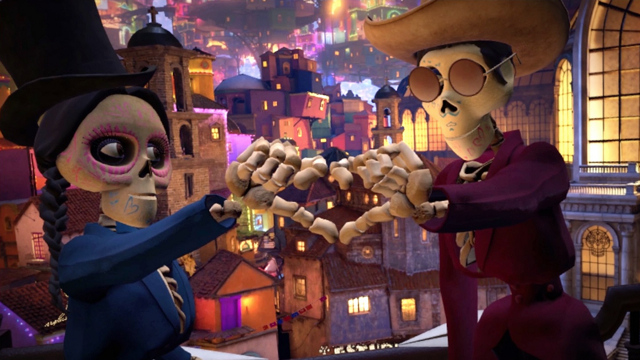 VentureBeat reports that "Coco VR" is a 20-minute interactive story that lets the participant "model outfits or decorate your calaca head." Oculus executive producer Yelena Rachitsky notes that the experience is "full of unique Easter eggs that sprinkle a bit of magic at every turn." VR studio Magnopus played a role in transforming the movie art to VR and adding social and interactive layers. Oculus collaborated with Pixar and Magnopus.
"Pixar's films are masterpieces, and we didn't want to just reproduce what you can see on screen," said Rachitsky. "We wanted to put together an experience that feels inherently VR — where it's all about the audience." Sondheimer said that "Coco VR" is "both a marketing vehicle and a standalone experience," and took "about nine months to complete, with help from both Magnopus and another company that assisted with the sound design."
Fast Company describes "Coco VR" as "the best way to experience Pixar's artistry." Sondheimer notes that Pixar had to let go of the control it is used to wielding. "We're used to directing the eye of our audience completely," he said. "We have to kind of let that go and lean all the way in to [let] the viewer go on their own adventure and experience."
"It's both a way to experience the film and step into the world of our film," he added. "We got to utilize a lot of … the artwork that most people will never get to see."
Topics:
Animation
,
Coco
,
Coco VR
,
Colum Slevin
,
Dia de los Muertos
,
Disney
,
Facebook
,
Gear VR
,
Interactive
,
Linear Content
,
Magnopus
,
Marc Sondheimer
,
Marketing
,
Mexico
,
Movies
,
Oculus
,
Oculus Rift
,
Pixar
,
Rift
,
Samsung
,
Social
,
Sound Design
,
Storyboards
,
Storytelling
,
Virtual Reality
,
VR Headsets
,
Yelena Rachitsky