Cord cutting continues to impact the pay TV industry. According to a new report from Strategy Analytics, the top 20 cable and satellite TV providers lost 479,000 subscribers in the U.S. between April and June, while operators in Canada lost 53,000 customers, marking the highest rate of decline experienced thus far in North America. The report comes after the first net drop of pay TV subscribers for the first three months of a year, following a disappointing Q1. Additionally, digital IPTV subscriptions fell by 62,000 in the U.S. and 9,000 in Canada.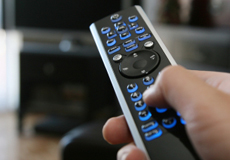 However, there is some good news. The report notes that pay TV customers who keep their subscriptions are paying more on average. "DirecTV, Charter, Dish Network, and Time Warner Cable all saw multiple percentage point increases in their average revenue per user," reports Digital Trends.
"In addition, Strategy Analytics notes that — regardless of the decreases in both pay TV and digital TV subscriptions — upcoming over-the-top video services from Verizon, Comcast, CenturyLink (and, possibly, AT&T after its DirecTV acquisition) will offset some of those subscriber losses."
According to the Strategy Analytics press release, the average revenue per user (ARPU) has "almost consistently been on an upward trajectory." For example, Dish Network may have lost 81,000 subscribers during Q2, but the company experienced growth with its new Sling TV service. "At the same time, Dish Network's Video ARPU increased by 2.5 percent quarter-over-quarter and 4.5 percent year-over-year."
To access the full report: Digital Television Operator Performance Benchmarking: North America Q2 2015.
Topics:
ARPU
,
AT&T
,
Cable TV
,
Canada
,
CenturyLink
,
Charter
,
Comcast
,
Cord Cutter
,
Digital TV
,
DirecTV
,
Dish Network
,
Internet
,
IPTV
,
North America
,
OTT
,
Pay TV
,
Satellite
,
Sling TV
,
Strategy Analytics
,
Streaming
,
Subscriber
,
Subscription
,
Time Warner Cable
,
TV Providers
,
TWC
,
United States
,
Verizon
,
Video