Parrot is introducing five new smartphone-controlled MiniDrone toys, ranging from $99 to $189, targeting consumers who cannot afford the larger, more expensive UAVs such as Parrot's AR and Bebop Drones. Based on the Rolling Spider quadcopter and the two-wheeled Jumping Sumo, which have sold 600,000 units combined since last year's launches, the new models will initially be made available in the U.S. and France this September. The new models include drones that skim across water, fly at night guided by LED lights, feature live streaming cameras and more.
The $179 Hydrofoil is a Bluetooth quadcopter that can be snapped into a foam and plastic boat hull to reach a top speed of 6 miles per hour. The watercraft has the ability to skim about two inches above the surface. The quadcopter can also be detached for aerial flights reaching a top speed of 11 miles per hour and control range of 80 feet.
"The original Bluetooth-controlled Rolling Spider MiniDrone is being replaced by two models: Airborne Night and Airborne Cargo," reports The Wall Street Journal.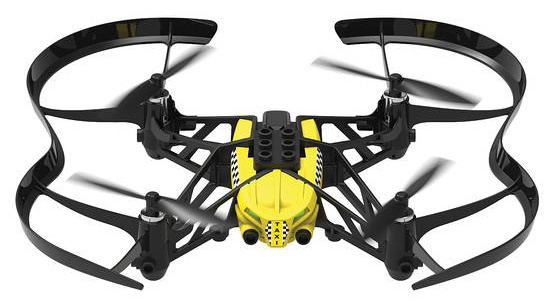 "They're essentially the same but the $129 Airborne Night has LED lights up front that Parrot says will allow for flying in the dark. In Parrot's FreeFlight iOS and Android app (used to control all of the company's MiniDrones), you adjust the intensity of the lights, control flight speed and perform aerial tricks, including whiplash 90-degree and 180-degree turns."
The $99 Airborne Cargo (pictured above) does not include lights, but features LEGO-compatible nibs for customizing the body.
Parrot's Jumping Sumo model will be replaced by the new Wi-Fi-controlled Jumping Night and Jumping Race MiniDrones. The $189 two-wheelers feature live-streaming cameras and can travel up to 8 miles per hour. The Jumping Night includes built-in LED headlights.
"Each jumping bot has a small spring-loaded piston in the back that propels it as high as 2.5 feet into the air," explains WSJ. "And they can do instantaneous U-turns and spin like crazy, too. Battery life on the Jumping Night and Jumping Race is 20 minutes."
Topics:
Airborne Cargo
,
Airborne Night
,
Android
,
App
,
Bluetooth
,
France
,
FreeFlight
,
Hydrofoil
,
iOS
,
Jumping Night
,
Jumping Race
,
Jumping Sumo
,
LED
,
LEGO
,
MiniDrones
,
Parrot
,
Parrot AR
,
Parrot Bebop
,
Quadcopter
,
Rolling Spider
,
Smartphone
,
Streaming
,
Toys
,
UAV
,
United States
,
Video
,
Wi-Fi