After months of anticipation, Jet.com, the online marketplace that hopes to challenge Amazon and eBay, has opened to the public. The members-only site offers tremendous discounts to its customers, under-cutting both retail and Amazon prices. Since a trial run began in March, however, the company has seen nothing but red ink. But the clamor hasn't died down, and more investors are eager to add more capital to the Hoboken, New Jersey-based company, and its valuation climbs even as its revenues dip below the black line.
Jet is the poster child for today's hot startup and, says The Wall Street Journal, "seems reminiscent of the dot-com boom era, when e-commerce companies assumed giant losses before breaking into the black."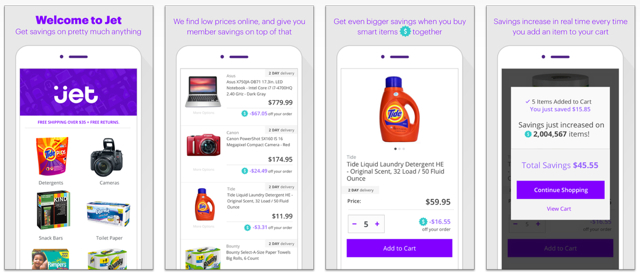 At $600 million, the company may have "the highest valuation ever among e-commerce startups before their official launch," with $225 million in capital raised in the past year. In contrast, Amazon raised only $10 million prior to going public in 1997.
Jet Founder/Chief Executive Marc Lore is talking with investors about raising "hundreds of millions of dollars in additional capital by year end," which could raise the company's valuation to $3 billion.
So far, however, the company has not signed up enough partner merchants or opened enough warehouses to make its paradigm work. When Jet has to purchase a product directly from the retailer and ship it to the consumer, the transaction is a net loss. Lore says the company plans to expand aggressively, adding inventory and creating more retail partnerships, but will only make a profit when it sells $10 billion worth of products a year, which it expects to reach by 2020.
TechCrunch has another vision of the future of retail: "OEMs [that] pursue a store-within-a-store concept, presenting their products side by side in the new 'showroom' environment similar to concepts seen in Asia today." Both OEMs and retail stores win, suggests TechCrunch, which notes that Apple, Samsung, video game consoles, Beats and smartphones all have pricing tightly controlled by the OEMs.
Related:
Jet.com Uses Clever Tactic to Save Money, The Wall Street Journal, 7/21/15
Topics:
Amazon
,
Apple
,
Asia
,
Beats
,
E-Commerce
,
E-Retail
,
eBay
,
Game Consoles
,
Hoboken
,
Internet
,
Jet
,
Jet.com
,
Marc Lore
,
Merchants
,
New Jersey
,
OEM
,
Online Marketplace
,
Retail
,
Samsung
,
Shipping
,
Shopping
,
Smartphones
,
Video Games
,
Warehouses