Despite a sticker price of $599 for its new Rift VR headset, Oculus VR has already sold out its preorders, resulting in an extension of its shipping date. The headset, over $100 more expensive than originally predicted, also requires the processing power of a PC that costs in the vicinity of $1,000. Starting in February, Oculus will sell a bundled headset/PC for $1,499. The expense of the Rift is justified, say observers, since its quality needs to sell VR to a public that has, in the main, never experienced virtual reality.
Variety quotes Oculus founder Palmer Luckey as saying, "it would have been a mistake to make compromises in order to bring down the price."
"People will always come out against any price point," he said during CES. "We are not making money on the Rift." The price includes a positional tracking sensor, an Xbox game controller and an Oculus remote control in addition to the headset.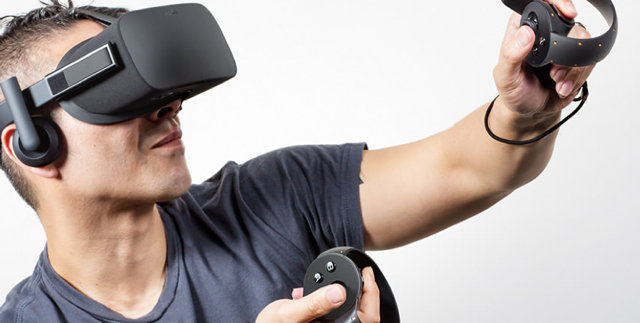 According to The Wall Street Journal, the Rift is about 70 percent more expensive than full Xbox One or PlayStation 4 systems. But although the first and most obvious market for the Rift is gamers, if the Rift resonates with the public — and provides an experience more compelling than any uncomfortable or distracting qualities — new VR markets could be found in communications, retail shopping and services including real estate.
Macquarie Capital's Ben Schachter thinks the Oculus Rift experience is good enough to encourage sales of about 1 million units this year.
In another WSJ article, Piper Jaffray analyst Gene Munster reports that the $600 price tag probably means that, "Facebook expects to keep production limited in 2016, which would be consistent with what chief executive Mark Zuckerberg said in a most recent earnings call." At the end of March, Oculus will start shipping to 20 countries, "though some people ordering were seeing ship dates of April and May."
Meanwhile, HP announced a $1,700 desktop computer to be paired with HTC's as-of-yet unreleased Vive headset, which is expected to launch in April for an undisclosed price.
WSJ points out that "compelling new technologies often start at a high price and take time to build a sizable user base," pointing out that Apple's first iPod cost $400 and sold only 381,000 units its first year.
Topics:
Apple
,
Ben Schachter
,
CES 2016
,
Computer
,
Facebook
,
Game Controller
,
Gamers
,
Gene Munster
,
Headset
,
HMD
,
HP
,
HTC
,
HTC Vive
,
iPod
,
Macquarie Capital
,
Mark Zuckerberg
,
Microsoft
,
Oculus
,
Palmer Luckey
,
Piper Jaffray
,
PlayStation 4
,
PS4
,
Real Estate
,
Remote Control
,
Retail
,
Rift
,
Sony
,
Tracking Sensor
,
Virtual Reality
,
VR
,
Xbox