Since the 2012 hiring of former Google executive Marissa Mayer to improve Yahoo's fortunes, the company has failed to turn around and is now facing difficult choices. Among many plans devised, the latest occurred last month when executives favored spinning off the company's main Internet business. That strategy may be abandoned as Yahoo considers a sale of its business, while an activist — and anonymous — investor mounts a proxy fight. Employee morale is said to be low in light of 1,100 layoffs since August 2014.
Bloomberg reports that, although Yahoo chair Maynard Webb says, "the business remains very undervalued," the numbers tell a different story. With a $27.7 billion stake in Alibaba Group Holdings, a $7.96 billion stake in Yahoo Japan and $5.88 billion in cash and equivalents, Bloomberg Intelligence notes that "Yahoo's market value of $28.9 billion shows that investors consider the main business to be worth zero or less."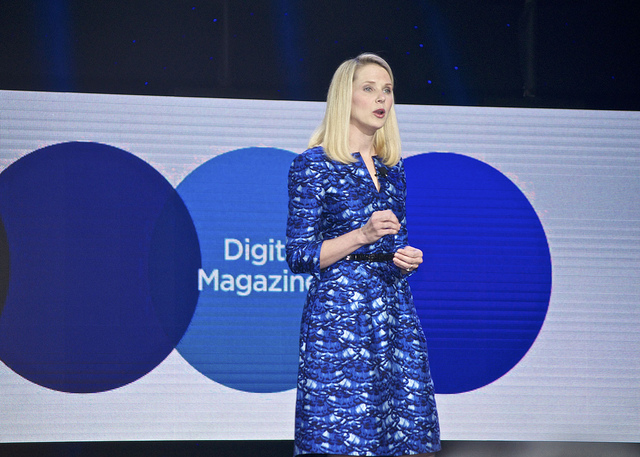 Stakeholders including Starboard Value urged Yahoo to separate the Alibaba assets out from the website business without triggering a big tax bill. Selling the Internet portal, says Bloomberg, would make Yahoo a "holding company for its assets and cash."
While Mayer and other company executives are holding on to the idea of pumping more value into the company, Starboard said the decision to spin off the core Internet businesses will waste time "while the existing leadership continues to destroy value."
Inside Yahoo, says The New York Times, morale among employees is plummeting. Mayer continues to cut staff, and an inside source says that one-third of the workforce has left in the last year. Expensive retention packages are fueling resentment among those employees who have remained loyal.
According to a Glassdoor survey, only 34 percent of employees think Yahoo's prospects are rosy, compared to 77 percent at Google. Yahoo's troubles are due to an industry-wide drop in display advertising and juggling multiple businesses.
Those multiple businesses, however, make Yahoo of interest to Verizon, which bought AOL last year for $4.4 billion. With a Yahoo purchase, Verizon would gain 1+ billion users that visit Yahoo's mail, finance, sports and video sites. Verizon chief executive Lowell McAdam and chief financial officer Fran Shammo have both said that the company would look at a Yahoo deal "if it made sense."