Initiating its planned merger with Alcatel-Lucent, first announced in April, Nokia began its share-exchange offer with that company's shareholders in Paris and London. Nokia is paying €15.6 billion ($16.6 billion) for Alcatel-Lucent, with the idea that combining the two companies' expertise in telecom and Internet gear will help it better compete in a global economy. Nokia not only faces competition from new players such as China's Huawei Technologies but from Ericsson, which just struck an alliance with Cisco.
The Wall Street Journal reports that Nokia chief executive Rajeev Suri described the Ericsson-Cisco deal as "a sign that his move was the right one to take." Nokia sold its once-booming phone business to Microsoft in 2014, and Suri says the wireless-only strategy was "a temporary plan aimed at repairing a company that was saddled with many uncompetitive businesses."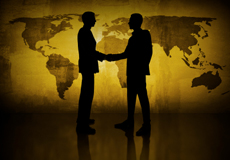 By acquiring Alcatel-Lucent, Nokia gains routers, switchers and other products used to create Internet networks. That opens up Nokia's potential customer base to any industry interested in manufacturing products for the Internet of Things, including automotive, airlines, oil, and police sectors.
Nokia and Ericsson's moves are also a reflection of how quickly fixed-line telecom networks, mobile networks and cable are converging, and telecom operators are consolidating. "In order to serve operators that are becoming more and more converged, you need to have a portfolio that is end-to-end," says Suri.
Antitrust authorities have already greenlit Nokia's all-share bid. WSJ notes that, "if enough Alcatel-Lucent shareholders tender their shares, the deal will be contingent only on Nokia shareholders approving it, both of which is expected." The deal is anticipated to close sometime early next year.
WSJ also notes that, "previous mergers in the networks business have stumbled," including the merger between Alcatel and Lucent in 2006 and the joint venture between Nokia and Siemens in 2007. Suri blames "poor timing" — unlike this new merger.
"We will be able to have one converged 5G offering rather than each of us building our own 5G network and then having to align them if we consolidated in two years," he said. "We are just ahead of the curve."
Topics:
5G
,
Alcatel-Lucent
,
Antitrust
,
Automotive
,
Cable
,
China
,
Cisco
,
Ericsson
,
Huawei
,
Internet
,
Internet of Things
,
IoT
,
Law Enforcement
,
London
,
Merger
,
Microsoft
,
Mobile
,
Mobile Network
,
Networks
,
Nokia
,
Paris
,
Rajeev Suri
,
Regulator
,
Router
,
Siemens
,
Smartphone
,
Switchers
,
Telecom
,
Wireless