When Nintendo announced that it was shuttering production of its original Wii game console in order to focus on the Wii U, it seems the Japanese company had some additional plans. Now, Nintendo says its previously Canada-exclusive $99 Wii Mini will be offered in the U.S. on November 17, including a red Wii Remote Plus controller, a red Nunchuk controller and a copy of "Mario Kart Wii." The release will coincide with new consoles offered by Sony and Microsoft.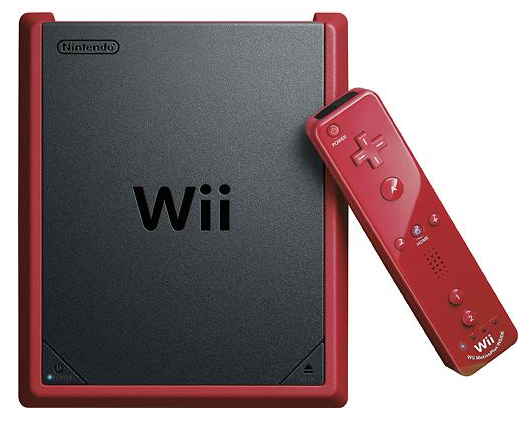 "Nintendo is clearly targeting gamers not looking to spend big bucks on a console, with the PlayStation 4 and Xbox One coming in at $400 and $500 respectively," notes Gizmag. "Even Nintendo's Wii U comes with a $300 price tag, so the Wii Mini actually sits in a solid position, able to be purchased for less than the cost of two next-generation games."
Unlike the full-sized Wii, the Wii Mini does not include the ability to connect to the Internet. Nintendo responds to the limitation: "While Wii mini is not compatible with the Internet and will not allow online functionality when playing games, select multiplayer games can still be played locally with friends and families, which is the ideal way to enjoy such entertaining games like 'Super Smash Bros. Brawl' and 'Mario Kart Wii.'"
"Online multiplayer was never Nintendo's focus with the Wii, so it's a logical cost-cutting measure for the console," suggest the post, "but it could upset buyers expecting their modern console to have some of the online features of its more expensive brethren."
While the Wii Mini lacks Wi-Fi and GameCube support, it does offer play for 1,300 games in the Wii library.
"The Wii has since been discontinued in Europe and Japan, though availability in the United States remains unchanged and unaffected indefinitely. Successor the Wii U has struggled at retail so far, selling 3.91 million units — below Nintendo's expectations — since launch in November 2012," reports GameSpot. "The system continues to have a negative impact on Nintendo's earnings."
Topics:
Canada
,
Competition
,
Console
,
Controller
,
Cost
,
Europe
,
Game
,
GameCube
,
Gamer
,
GameSpot
,
Gaming
,
Gizmag
,
Internet
,
Japan
,
Launch
,
Mario
,
Mario Kart
,
Microsoft
,
Mini
,
Multiplayer
,
Next Generation
,
Next-Gen
,
Nintendo
,
Nunchuk
,
PlayStation
,
PlayStation 4
,
Price
,
PS4
,
Release
,
Remote
,
Remote Plus
,
Sony
,
Super Smash
,
Video Game
,
Wi-Fi
,
Wii
,
Wii Mini
,
Wii U
,
Xbox
,
Xbox One