Gamers have opted to hold off on purchasing some high-profile games until Sony and Microsoft release their next-gen consoles. The PlayStation 4 is scheduled to launch November 15 and the Xbox One will be available November 22. Although consumers are showing hesitation ahead of the new hardware launches, Activision Blizzard has shipped $1 billion worth of "Call of Duty: Ghosts" to retailers worldwide. "Call of Duty: Black Ops II" earned $1 billion in 15 days when it was released last year.
"A new 'Call of Duty' game has generated more than $1 billion in sales every year since 2009," reports The New York Times in its lukewarm review of the latest version. "After 10 years and more than 100 million copies sold, the series is now among the most famous in gaming."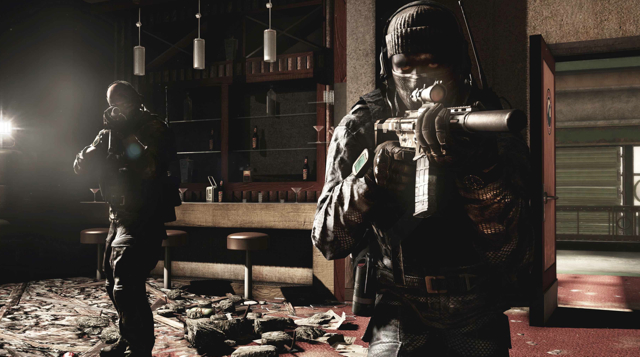 The announcement that sales of the new first-person shooter "Call of Duty: Ghosts" exceeded $1 billion on its first day is meant to invite comparison with the launch of Take-Two Interactive's "Grand Theft Auto V," which reached $1 billion within its first three days.
However, Forbes suggests the two are not necessarily comparable: "The $1 billion for 'Call of Duty: Ghosts' reflects sell-in — that is, the number of copies of 'Call of Duty: Ghosts' shipped to retailers. Put another way, retailers expect that this number of copies will provide them with a sensible balance of risk between overstock and running out of copies in individual stores."
The $800 million generated for "Grand Theft Auto V" on its first day reflects retail sell-through (meaning 15 million gamers purchased a copy to play).
"Our third-quarter results exceeded our expectations, and we are able to raise our outlook for 2013 net revenues and earnings per share," said Activision Blizzard CEO Bobby Kotick, as reported by Variety.
"We recently released new titles in two of the most popular franchises in entertainment, 'Call of Duty: Ghosts' and 'Skylanders Swap Force,'" he noted. "We are thrilled by the quality of those games, and we are excited to show what we can do with them on next-generation consoles in the coming weeks. We are also in the process of a beta launch for our first major free-to-play game, 'Hearthstone: Heroes of Warcraft.'"
"Sales to next-gen platforms will be particularly interesting, in light of the ongoing controversy around the 720p resolution of the Xbox One edition and reports of frame-rate issues on the PS4 version (which may of course be patchable by the time the average gamer gets his or her hands on it). Notwithstanding the froth to which a scandal-hungry games media and overwrought platform enthusiasts has beaten these questions, they will have some effect on sales, or at least on sell-through, for both platforms," explains Forbes.
Topics:
720p
,
Activision
,
Beta
,
Black Ops
,
Blizzard
,
Call of Duty
,
Console
,
Forbes
,
Franchise
,
Game
,
Gamer
,
Gaming
,
Ghosts
,
Grand Theft Auto
,
Hardware
,
Hearthstone
,
Interactive
,
Kotick
,
Microsoft
,
Next Generation
,
Next-Gen
,
PlayStation
,
PlayStation 4
,
PS4
,
Retail
,
Retailer
,
Sales
,
sell-in
,
Sell-Through
,
Skylanders
,
Sony
,
Take-Two
,
Xbox
,
Xbox One