Ratings service Nielsen is starting to replace its traditional paper diaries with electronic devices it has developed to measure local TV viewership. Nielsen's diary-based system, which has been in place in varied formats for at least 60 years, will eventually be retired. To start, the dismantling will affect 14 of the 154 markets in which hand-written viewing diaries are still used to collect data. The new devices will "listen" to the audio portion of shows that are being viewed by consumers.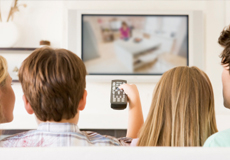 "The diaries are to be replaced by new, electronic devices developed by Nielsen that will track viewing in Nielsen households by 'listening' to the audio portion of any TV shows that are being watched and a Nielsen 'audio watermark' embedded in the signals transmitted by TV stations," reports TVNewsCheck.
"The devices — or 'code readers,' as Nielsen is calling them — are about the size of a Roku or Apple TV set-top box. The new system will enable the diary-based markets to obtain Nielsen viewership data 12 months a year, instead of just the current four sweeps months (February, May, July and November)."
Nielsen also plans on expanding the audience sample size in each converted market. The company hopes that eliminating the paper-based system will help make future measurements easier, especially as multichannel factors have become a concern.
While broadcasters are looking forward to the conversion, they are reportedly cautioning Nielsen to move carefully since the industry has relied on the data from the diary system for so long.
"We are anxious to see the diary method going away and the hybrid meters work in medium and small markets," said Jon Rand, COO of Northwest Broadcasting. "We just want to make sure that Nielsen doesn't skip a step and is doing all it can to not have this come off as half-baked."