Swedish startup Newstag has developed a compelling revenue-sharing approach that it hopes will solve the "broken economic model" of today's news dissemination and consumption. Newstag plans to help professional news organizations, brands, NGOs and general consumers make money from news when it launches its service commercially in September. According to journalist and ETCentric contributor Adrian Pennington, the company recently announced $1.3 million in seed funding.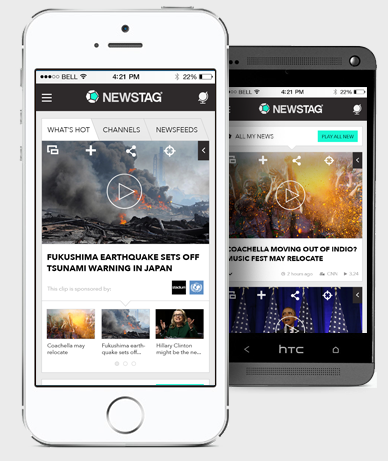 "The great paradox is that there has never been as much content available as today, but there is no financial model to support the editorial work of journalists," according to Newstag CEO Henrik Eklund. "But if people are spending a billion hours on Facebook a month, we have to tap that and let the crowd curate content to feed value back into the system. You have to let people themselves set the value, otherwise the news industry will not be able to pay for quality journalism."
Newstag "aggregates video feeds from professional news suppliers, who also automatically populate its database, and serves them up to mobile users for free," writes Pennington for Streaming Media Europe. "Users can tag the news topics or genres they are interested in and create a personalized newscast viewable on smartphones or on TVs via Roku, Chromecast or Apple TV devices. Sharing of personalized newscasts to social networks is key."
Participating agencies and organizations already include AFP, AP, Reuters, Red Cross and the World Wildlife Fund.
"Content could be sponsored so that occasional users would see pre-roll or sponsored feeds," Pennington explains. "Regular users could opt to select just the brands they want to receive ads from. User data could also be sold by CPM and per category (sports, for example)."
Revenue is divided between the content owner, Newstag, and the user-members, who will earn credits for tagging news and sharing it.
"What we offer is a totally new way for content owners to make money," suggests Eklund. "The self-selection of ads is a way for brands to properly target people who actually find your message relevant, so brands win hearts and minds."
"The news business is broken," he adds. "The problem is not the lack of content but that there is too much of it. Nor is there any lack of professional produced content. The problem is that traditional news broadcasters do not have the resources to curate, plan and editorially present that content."
Topics:
Adrian Pennington
,
Advertising
,
AFP
,
AP
,
Apple TV
,
Business Model
,
Chromecast
,
Crowdsourced
,
Curation
,
Editorial
,
Facebook
,
Henrik Eklund
,
Journalism
,
Mobile
,
News
,
Newstag
,
NGOs
,
Personalized
,
Professional News
,
Publishing Workflow
,
Red Cross
,
Reuters
,
Roku
,
Smartphone
,
Social Media
,
Sweden
,
Video
,
World Wildlife Fund