Sony's much-anticipated PlayStation TV went on sale this week for $100 MSRP — or $140 packaged with a DualShock 3 gamepad controller, 8GB memory card, and "The Lego Movie Videogame." The mini console, which essentially provides a Vita experience on a big screen, connects to a TV or PC via HDMI and allows users to access games and streaming services. "It is essentially a modern version of Nintendo's GameBoy Player mashed up with all the capabilities of an Amazon Fire TV," suggests VentureBeat.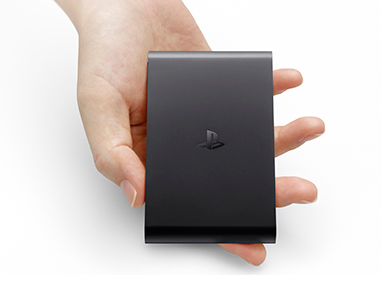 The device, which has already been available in Japan, was first announced during June's E3 conference in Los Angeles.
PlayStation TV inputs include Ethernet, HDMI, USB, and PS Vita memory card and game slots. Since the console is basically a Vita on the inside, internal storage is limited so users will need a proprietary Vita memory card in order to save games and download software. The console also offers Bluetooth and Wi-Fi connectivity.
"PlayStation TV is small and attractive," according to VentureBeat. "It is a microconsole, but it isn't an ugly box that sticks out in your entertainment center like the Android-powered Ouya. Instead, this device is slim and rounded on the edges. It's smaller than most modern smartphones, and you probably won't even notice a PS TV once you get it settled underneath your display."
So far, the console does not have access to major streaming services such as Netflix, Hulu or Amazon, but it does provide connectivity to Sony services.
"According to reports out of Japan, the only streaming services the device seemed prepared to deliver on launch day were Crackle and anime service Crunchyroll, with more expected to be added over time," reports TWICE. "The PlayStation TV is also supposed to provide streaming movies and TV shows via the PlayStation Store and Video Unlimited service."
From a gaming perspective, the early reviews are positive.
"I haven't had enough time with the Vita TV, but I can tell you that I would rather spend $100 to $140 on this than an Ouya, Apple TV, Amazon Fire TV, or any other set-top box," writes Jeffrey Grubb for VentureBeat. "When it comes to inexpensive microconsoles, nothing has a better gaming selection than the PlayStation TV."
For more information, visit the PlayStation TV site.
Topics:
Amazon
,
Amazon Fire TV
,
Android
,
Anime
,
Apple TV
,
Bluetooth
,
Crackle
,
Crunchyroll
,
GameBoy
,
Gamer
,
Gaming
,
HDMI
,
Hulu
,
Japan
,
Jeffrey Grubb
,
Microconsole
,
Movie
,
Netflix
,
Nintendo
,
Ouya
,
PlayStation Store
,
PlayStation TV
,
PS Vita
,
Sony
,
Streaming Service
,
TV Show
,
USB
,
Video
,
Video Unlimited
,
Wi-Fi