LG has unveiled two new 4K HDR projectors that the company says are its most advanced models to date. Both the LG CineBeam HU715Q and HU710P feature 2,000,000:1 contrast ratios. With a retail price of $2,500, the HU710P uses a hybrid laser-LED light source that doesn't require a color wheel and can pump up to 2,000 lumens of brightness. The $3,000 HU715Q ultra short-throw (UST) relies only on laser light, producing up to 2,500 lumens. Both projectors are designed for indoors, but LG says they'll also work outside after sundown.
"The new CineBeam projectors are excellent choices for consumers looking to create their very own private cinemas with immersive, large-scale images that can be projected directly onto the wall or a dedicated screen," LG says, calling them "compact and easy to set up."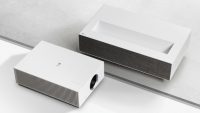 The HU715Q has "the ability to create a 100-inch image" when placed only about 8 inches from the wall for a "flexible, space-conscious design," according to LG, pointing out 2.2-channel stereo and built-in quad woofers that heighten immersion and can connect to up to two Bluetooth speakers.
The LG HU710P is "a notable upgrade to its predecessor" that delivers brighter images and deeper blacks due to the wheel-less hybrid laser. It has a set of 10-watt stereo speakers. Both models are available now at LG.com.
"The HU710P offers greater flexibility in terms of image size, with a range that spans from 40-300 inches," reports Digital Trends, adding that "as a conventional front-firing projector, you'll need more distance from the projector to the display surface: About 9.5 feet for a 100-inch image. However, unlike other front-firing projectors, the HU710P possesses a high degree of keystone correction, which lets you place the projector considerably off-angle from a dead-center position."
Both are rated for 20,000 hours of use, which translates to a lifespan four times longer than conventional projector lamps, LG says.
Features include:
Brightness Optimizer makes adjustments according to ambient light conditions.
Dynamic Tone Mapping analyzes and fine tunes each frame to support superior HDR performance for stunningly real, incredibly vivid images regardless of the content or light level of the room.
Filmmaker Mode displays movies the way their directors intended them to be seen by preserving the original aspect ratio, frame rate and colors.
LG's webOS smart platform offers intuitive controls and navigation with easy access to a wide range of popular streaming services including Netflix, Amazon Prime Video, Disney+, YouTube and Apple TV.
Two USB 2.0 ports and three HDMI ports (including one with HDMI eARC).