TCL is expanding its affordable 30-series smartphone line with five new models, all of them featuring AMOLED displays and 50-megapixel main cameras for prices ranging from about $155 for the TCL 30 E to $277 for the TCL 5G. The 30 Series phones, which TCL teased at CES 2022, will be available in Europe beginning in April. Also at Mobile World Congress in Barcelona, TCL unveiled two foldable concept phones and several tablets, including the NxtPaper MAX 10, a tablet featuring a paper-like 10.36-inch display in FHD+ for around $300 when it becomes available later this year, initially in Asia.
The TCL 30 5G, the only new model offering 5G capability, also has an ultrawide front camera, a FHD+ AMOLED screen at 6.7-inch 60Hz screen, a MediaTek Dimensity 700 CPU and 4GB of RAM with up to 64GB of expandable storage.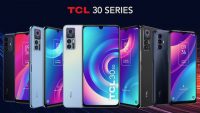 The five phones "share some common features, with all models having a 50-megapixel main rear camera setup and 5,000mAh minimum batteries," Engadget writes, noting "all but the TCL 30 E have rear triple AI cameras as well, with the 30 E packing having a dual rear cameras. The TCL 30 5G, TCL 30+, and TCL 30 also have slightly bigger 5010mAh batteries and support 18W fast charging."
The next two models down — the TCL 30+ and TCL 30 — feature slightly less robust MediaTek Helio G37 chipsets. An ultrawide front camera is a feature of the TCL 30+, but not the TCL 30. On the third rung, the TCL 30 SE and 30 E have smaller 6.52-inch displays, MediaTek G25 chipsets and lesser batteries that lack fast charging.
China-based TCL now has seven models in its 30-series phone line. Because the first two models — the TCL 30 V and TCL 30 XE — were released in the U.S., Engadget speculates the five new entries eventually will be, too.
As for the NxtPaper MAX 10 tablet (below), GSMArena notes that it "runs the older Android 11 and has the TCL Kids feature for when it needs to serve as entertainment for the little ones. The battery has 8,000mAh capacity for long school sessions (this was designed with study from home in mind)."
TCL also planted its flag firmly in foldable phones, which seem to be making a comeback. "Foldable screens mean that manufacturers can create devices that, in theory, offer the portability of a typical smartphone, with the screen real estate of a tablet. Properly implemented, this gets you the best of both worlds," according to Digital Trends, which calls TCL foldables "two intriguing concept phones" with "unique hidden talents."
The TCL Fold n Roll (below) has a screen that unfolds to about 7-inches and can extend to 8.8-inches of 2880 x 2160 (360ppi) display.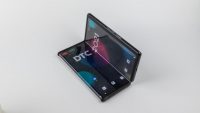 The Ultra Flex "implements a 360-degree hinge design so that it can go from a closed clamshell to a tablet to a more standard smartphone format." The roughly 8-inch PLP AMOLED 2489 x 1860 display supports a stylus.
Looking at the design, we can see that it has two sets of cameras: A rear array with three cameras and a flash and two front-facing cameras. "A rear array with three cameras and a flash and two front-facing cameras," are part of the package, according to Digital Trends. Pricing and availability were not announced.
Topics:
5G
,
AMOLED
,
Android
,
Artificial Intelligence
,
Barcelona
,
Cameras
,
CES 2022
,
China
,
FHD Plus
,
Foldables
,
MediaTek Dimensity
,
MediaTek G25
,
MediaTek Helio G37
,
Mobile
,
Mobile World Congress
,
MWC
,
NxtPaper MAX 10
,
Smartphones
,
Tablets
,
TCL
,
TCL 30-series
,
TCL Fold n Roll
,
TCL Kids
,
TCL Ultra Flex