"Preparing for the Multiverse" was the subject of ETC@USC's latest virtual Digital Town Square event. As the culture, art and commerce spaces rebalance to incorporate blended physical and virtual options, it is clearly important that we understand early on how changes will impact our business and creative endeavors. Our speakers spend their days thinking about how the emerging metaverses will impact creativity, business development and the fabric of society. We chose the word "multiverse" because we expect many metaverses to develop and compete — some designed top-down by multinational corporations and others developed bottom-up by DAO communities.
ETC's Phil Lelyveld gave a brief introduction and moderated the program. El Segundo-based innovation studio and business management consultant Kinestry helped produce the event.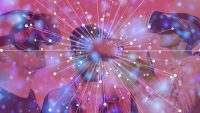 Each speaker at the February 16th event was given 25 minutes. Speakers included:
Eric Holdener and Rachel Joy Victor of Kinestry — "How to produce human-centered experience storytelling in the multiverse"
Edward Saatchi, Fable Studio and The Culture DAO — "The future of art, creativity and support for artists in the metaverse"
Krista Kim, artist, interviewed by Eric Holdener and Rachel Joy Victor — "The Techism art movement, which reconciles technological innovation with the creation of art"
Caitlin Burns, Palm NFT Studio — "Non-fungible relationships: What do NFTs mean for the future of IP?"
Catherine Henry, Media.Monks — "How brands can prepare to enter the metaverse"
Robert Tercek, futurist, consultant, author — "Will we be citizens or subjects of the metaverse?"
All of the presentation videos, along with information about the speakers and 2-minute previews of their talks, are available on the ETCentric site. In keeping with ETC's mandate to be an educational resource for the community, we encourage you to share this information with co-workers, friends and colleagues.
Topics:
Art
,
Brands
,
Caitlin Burns
,
Catherine Henry
,
Commerce
,
DAO
,
Digital Town Square
,
Edward Saatchi
,
Eric Holdener
,
ETC@USC
,
Fable Studio
,
IP
,
Kinestry
,
Krista Kim
,
M&E
,
Media.Monks
,
Metaverse
,
Multiverse
,
NFTs
,
Palm NFT Studio
,
Phil Lelyveld
,
Rachel Joy Victor
,
Robert Tercek
,
Techism
,
The Culture DAO