At NAB this week, Google introduced its latest VR camera, the Yi Halo, one year after partnering with Xiaomi-backed, Chinese action cam maker Yi Technology. The $17,000 spherical device, which uses Google's cloud-based stitching system Jump for producing stereoscopic 360-degree videos, will be available this summer. The Yi Halo combines 16 4K action cams with an extra camera facing upwards. While Google unveiled Odyssey two years ago, featuring 16 GoPros, the rig has largely served as a test case. The Yi Halo, however, is commercially designed with feature improvements and multiple extras.
It also addresses the blind spot limitation of Odyssey's horizontal camera alignment by adding the upward-facing camera, which does not provide a stereoscopic upward view, but reportedly eliminates blur, reports Variety.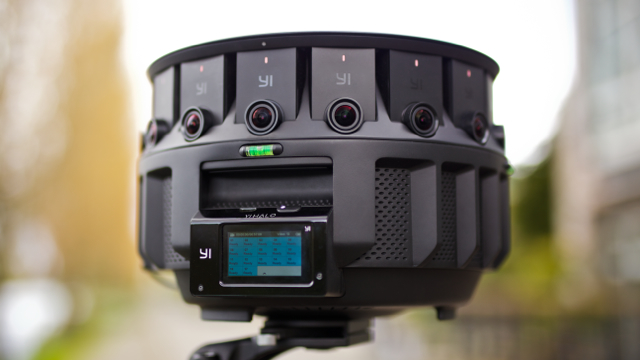 The Yi Halo is a "17-camera monster capable of shooting stereoscopic video in 8K resolution at 30 frames per second, or 5.8K at 60 frames per second," according to The Verge. Extras include an LCD screen, spare cameras, an SD card reader and more.
The $399 Yi 360 VR, capable of capturing 360 video at 30fps in 5.7K resolution, is a consumer option. At 5.7K, Yi's camera edges out alternatives such as GoPro's Fusion, the Nikon KeyMission 360 and the Samsung Gear 360.
"IMAX is also working on a Jump-compatible camera setup, and Facebook has its own $25,000 and up solution in the Surround 360 rig," adds The Verge.
Google also introduced its new Jump Start program at NAB. "The Jump Start program connects filmmakers with the resources they need to create virtual reality films," notes the program website. "Creators get access to a Jump virtual reality camera and unlimited stitching with the Jump Assembler."
Applications are being accepted from April 24 to May 22 for the first round of Jump Start.
Topics:
360-Degree Video
,
3D
,
4K
,
8K
,
Cameras
,
China
,
Cloud
,
Facebook
,
Fusion
,
Gear 360
,
Google
,
GoPro
,
IMAX
,
Jump
,
Jump Assembler
,
Jump Start
,
KeyMission 360
,
LCD
,
NAB 2017
,
Nikon
,
Odyssey
,
Samsung
,
SD Card
,
Stereoscopic
,
Stitching
,
Surround 360
,
Video
,
Video Capture
,
Virtual Reality
,
Xiaomi
,
Yi 360 VR
,
Yi Halo
,
Yi Technology