In his first appearance at NAB, FCC chair Ajit Pai got a warm welcome from broadcasters who liked what they heard. Pai promised to promote ATSC 3.0, also known as "next gen TV," prune out regulations that are out-of-date or present obstacles to broadcasters, and tweak others. "Inertia is a powerful force in government," declared Pai, who said he was "fundamentally optimistic" about broadcasting's future. "There are close to 1,000 pages of broadcast rules, many of them decades old, and I'm trying to change that."
Pai said that he is circulating a call for comprehensive review of broadcast regulations to other FCC members, in anticipation of a May 18 vote on the proposal. "We want to hear from you which rules should be modified and which repealed, and why," Pai told the audience. "The goal is to have rules that match the reality of 2017, not 1977."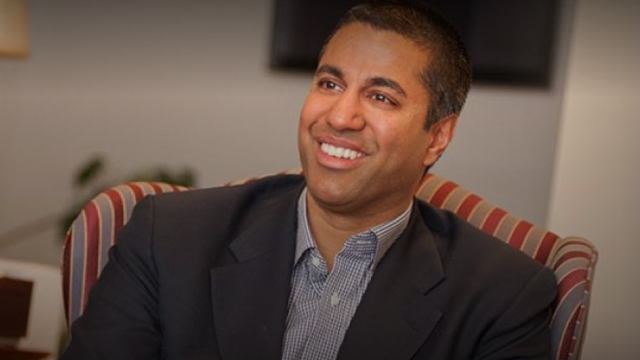 He added that, "the convergence of media, entertainment and technology" has been fast and created a new digital environment, in which people consume media in much different ways. "I want to cut unnecessary red tape and give broadcasters the flexibility they need to serve their communities," said Pai, to applause.
To that end, he noted the excitement surrounding ATSC 3.0, which "is the first to marry broadcasting and the Internet."
"I've made this a priority," he said. "In my first month, we voted to allow broadcasters to use ATSC 3.0 on a voluntary, market-driven basis." Pai also pointed out the main studio requirement — which requires "all AM, FM, and TV broadcast stations to locate their main studio at any location within the station's community of license … or within 25 miles from the reference coordinates of the center of its community of license" — is outdated.
"Technology innovations have rendered these studios unnecessary since people are more likely to contact the main studio via email, social media and so on," he said, to tremendous applause. "We want to repeal this rule."
Also on Pai's list to tweak or repeal were equal opportunity rules and media ownership rules, which "clearly don't match the current marketplace." He credited FCC commissioner Mignon Clyburn, a Democrat, for spearheading a bipartisan rule on AM radios. He also brought up the FCC's incentive auction.
"Many people in the audience didn't agree with every policy choice the FCC makes," he said. "Making this complicated enterprise work took a lot of skill and effort." He asked all the current and former FCC staffers in the audience to stand, thanking them and asking the audience to acknowledge them as "dedicated public servants."
Pai buoyed the audience by noting that, "the overwhelming majority of the most watched shows are still on broadcast TV, and 93 percent still listen to the radio, the same as decades before," and praising broadcasting's values of  "public service, localism and diversity."
"I hope for a new spirit of cooperation," he concluded. "You have my word this FCC will go where the facts and law lead us. In return, I ask you keep an open mind to the decisions we make."