At NAB 2017, 360 Designs, newly located in Los Angeles, debuted its Flying EYE 4K live streaming VR drone, which links with its Breeze wireless transmission unit. Founder/chief executive Alx Klive reports that the system is available for order now, but will not ship for two months. Priced at $75,000, Flying EYE and Breeze are attracting the attention of aerial photography companies, broadcasters, automotive companies, VR production companies and, interestingly enough, other drone manufacturers.
According to Klive, the three-camera system relies on Blackmagic Design Micro Cinema Cameras. Klive reports that three cameras is an ideal number for capturing 360-degrees. "We use three cameras with 190-degree field of view lenses," he said. "You can get 360-degree video with two cameras, but it depends on lenses wider than 180-degrees, and you lose some resolution."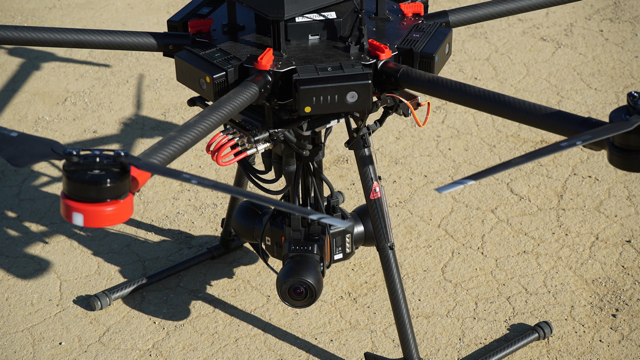 With a background in wireless video transmission (microwave links in live trucks in the 1980s.), Klive also paid attention to how he was going to transmit ultra high resolution live VR. With 4K-to-6K video, the bandwidth requirements are immense and, says Klive, "the infrastructure isn't there yet."
"There aren't 4K professional video transmitters," he said. "So we built our own system, which we call Breeze, an ultra high resolution streaming system, which does up to 6K, near uncompressed, wirelessly. Now everyone at 360 Designs has training in transmitting point-to-point, be it microwave, satellite or even bonded cellular. It's all in our wheelhouse."
Klive's interest in VR  dates back to the 1980s when he was leasing W Industries' Virtuality systems and making VRML websites. "Like a lot of people involved in that early incarnation of VR, we knew it would come back with a vengeance," he said. "We didn't think it would take 25 years." He was focused on the idea of live-streaming VR, and after Facebook's purchase of Oculus kicked off this current VR phase, he started looking for cameras that could help him create a VR experience of virtual beaches.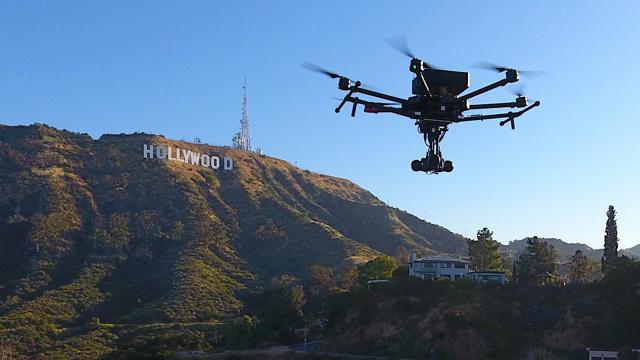 He was very disappointed in the cameras, until he saw the debut of Blackmagic Design's Micro Cinema Cameras, one of which internally recorded HD and another that captured 4K with external recorders. Klive met with Blackmagic about utilizing these cameras for his concept camera, and founded 360 Designs. In October 2015, he announced a concept camera with 42 Blackmagic Design Micro cameras. It was named a TechCrunch Disrupt, and the company took off.
"Making cameras was a means to an end, not a goal," said Klive. "But along the way, people really liked the camera, so we've built a successful business around it." In March 2016, 360 Designs' first camera, Mini EYE, hit the market, in 3-camera and 4-camera versions. Klive says the company has sold 70 cameras at $12,000 to $15,000 each.
The Flying EYE and Breeze will get Klive closer to what the goal has been all along: live transmission of ultra-high resolution virtual reality. "When you don't see the pixels anymore, it's like teleportation," he said. "I think live VR will be massive when the quality is there. In five to eight years, when every event happening around the world is being live-streamed in VR, you'll be able to bounce around the planet at the tap of a headset."
Topics:
360 Designs
,
360-Degree Video
,
4K
,
6K
,
Alx Klive
,
Blackmagic Design
,
Breeze
,
Cameras
,
Drones
,
Facebook
,
Flying EYE
,
Live Streaming
,
Los Angeles
,
Micro Cinema Camera
,
Mini EYE
,
NAB 2017
,
Oculus
,
Photography
,
Production
,
Resolution
,
TechCrunch Disrupt
,
UAV
,
Video
,
Virtual Reality
,
VR Headsets
,
VRML
,
Wireless