In response to learning that listeners want to discover and save music in their favorite podcasts, Spotify is debuting "Original Shows," a new spoken word format that combines music with particular themes featuring a monologue or conversation with guests. But, unlike a typical podcast, each song inside an Original Show will redirect the listener to that artist's Spotify official audio files. That means the artist will make the same money as if a listener sought out his or her music. Listeners can also like and save a song while they're listening to it.
Rolling Stone reports that, in addition, Original Shows offer an "Explore Episode" function "that allows the listener to access the episode's tracklist and jump around the different segments." Spotify stated that, "Spotify Premium listeners will hear full tracks as part of these shows, and those with the Free tier will hear 30-second music previews."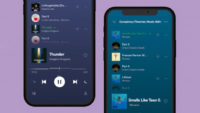 The day it announced Original Shows, Spotify introduced seven of them: "Halleloo Happy Hour with DJ Shangela; Murder Ballads (which invites listeners to 'explore the history and folklore behind some of America's most mysterious and violent songs'); 60 Songs That Explain the 90s; Our Love Song (in which different couples create soundtracks to their love stories); Conspiracy Theories: Music Edition; Rock This (with Spotify's head of rock Allison Hagendorf); and 10 Songs That Made Me (a show for artists to highlight their defining career moments)."
Powered by the acquisition of Anchor, the company that allows users to create, distribute, host and monetize their own podcasts, Spotify "is also encouraging any user to make their own show." Rolling Stone notes that Spotify has previously "expressed its multimedia ambitions," first with Your Daily Drive, "a personalized playlist that combines music, news, and talk content" and, earlier this summer, "video podcasts," which are similar to talk shows.
Less than a month ago, "Spotify gave top-tier production company Chernin Entertainment first-look access to develop its podcasts into films and TV shows."
The Verge notes that, thanks to the format in which users can create shows via Anchor, Spotify will be "the only podcast platform where hosts can include entire songs in their shows without having to worry about copyright." It adds that, "Anchor creators in the U.S., UK, Canada, Australia, New Zealand, and Ireland will have access to this interactive format." But the shows they create will only be accessible via Spotify and "not distributed elsewhere … because the technology relies on the company's deals with record labels."
The seven Original Shows also "take advantage of the format and make music a central focus." "The broader strategy with this launch seems to be making Spotify the most appealing place for creators to launch and maintain their shows," says The Verge. "Spotify is giving other creators the power to become radio DJs, which might give it a leg up on its competitors."
According to Spotify, Original Shows can be found in the Shows with Music hub in Browse or in a programmed shelf on a user's Home tab.
Topics:
Allison Hagendorf
,
Anchor
,
Audio
,
Chernin Entertainment
,
Copyright
,
DJs
,
Interactive
,
Movies
,
Multimedia
,
Music
,
Musicians
,
Original Shows
,
Podcasts
,
Record Labels
,
Shangela
,
Shows with Music
,
Songs
,
Soundtracks
,
Spoken Word
,
Spotify
,
Spotify Premium
,
TV Shows
,
Video Podcasts
,
Your Daily Drive