According to a new report from music analytics firm Next Big Sound, consumers streamed more than one trillion songs during the first six months of this year. The report acquired data from Pandora, Rdio, SoundCloud, Spotify, Vevo, Vimeo and YouTube. While digital downloads and CDs continue to experience a decline, streaming music generated $1.87 billion last year. Streaming music is clearly on the rise (Next Big Sound cites only 450 billion streams for all of 2014), yet companies are still looking for opportunities to profit.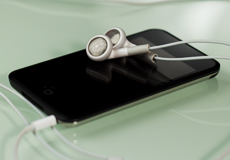 Convincing consumers to shell out money for a monthly subscription fee remains a challenge. However, there is no doubt that one trillion is a significant increase, an uptick that most industries never experience.
"To put that number into perspective, that averages out to over 140 streams for every single living human being on the planet," reports Digital Trends. "And the figure doesn't even include streams from Apple Music, which has reportedly amassed 11 million trial users since its launch at the end of June."
And while the numbers are staggering, there is still room for growth. "According to a report by the IFPI (International Federation of the Phonographic Industry) published earlier this year, there is still a lot of room to grow in terms of consumers joining the streaming revolution," notes Forbes.
According to the IFPI report, "35 percent of consumers have accessed free music streaming services in the last six months, compared to 16 percent using paid-for music subscription services."
Drake is the most streamed artist this year on Pandora, Rdio and SoundCloud, while Calvin Harris holds the lead on Spotify, and Maroon 5 tops the YouTube charts.
Topics:
Analytics
,
Apple Music
,
Calvin Harris
,
Drake
,
Free Music
,
IFPI
,
Internet
,
Maroon 5
,
Music
,
Music Industry
,
Music Video
,
Next Big Sound
,
Pandora
,
Rdio
,
Report
,
Song
,
SoundCloud
,
Spotify
,
Streaming
,
Streaming Service
,
Subscriber
,
Subscription
,
Track
,
Vevo
,
Vimeo
,
YouTube