U.S. movie theaters brought in nearly $100 million in ticket sales over the four-day Memorial Day weekend. The top two titles were Paramount's "A Quiet Place Part II," which earned $48.4 million in three days (and $57 million over the full four days) and Disney's "Cruella," which made $27 million in four days, after an earlier Disney+ release. This performance has been the best box office since the advent of the global COVID-19 pandemic, although it was less than half of the $232 million earned in the same holiday period in 2019.
CNBC reports that Bow Tie Cinemas chief operating officer Joseph Masher stated that the weekend box office "shattered … any studio executive's belief that a movie belongs on streaming." "The profitability of [movies] is exclusive to the theater," he said. "We've proved it this weekend."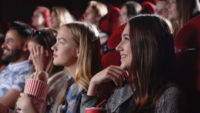 As a comparison, the first "A Quiet Place" made $50 million in its first three-day weekend in 2018. This year, only 72 percent of theaters were open. "Cruella," however had a "more muted result because the film was also released on Disney+ for $30" as part of Disney's premiere access to new blockbusters.
Warner Bros. decided early in 2021 to "release its entire slate on HBO Max and in theaters on the same day [and] Universal and Paramount have struck deals with movie theater chains for shorter theatrical windows."
Masher believes that, already, "the studios are realizing that theater exclusive is the way to go." Disney's September release "Shang-Chi and the Legend of the Ten Rings" will be a theatrical exclusive, and "other major blockbuster releases coming this summer and fall include "F9," "Dune," "Snake Eyes," "Free Guy," "Eternals," "The Green Knight," "The Suicide Squad," "Venom: Let there be Carnage," "Spider-Man: No Way Home" and "No Time To Die."
Wired reports that box office for "A Quiet Place II" over the holiday weekend "outpaces the last record holder: 'Godzilla vs. Kong,' which snagged $32 million in March." During the pandemic, studios shifted to streaming, with many uncertain if audiences would ever return to theaters.
AMC Theatres announced that, "it's raising some $230.5 million to acquire additional theaters and expand its business … [and] is now raising money through the sale of 8.5 million shares of its stock to Mudrick Capital Management and is considering purchasing the locations previously held by ArcLight Cinemas and Pacific Theatres." That could reopen the currently shuttered iconic Cinerama Dome.
"With our increased liquidity, an increasingly vaccinated population, and the imminent release of blockbuster new movie titles, it is time for AMC to go on the offense again," said AMC chief executive Adam Aron.
Related:
AMC Eyes ArcLight Theater Locations. What About the Cinerama Dome?, The Los Angeles Times, 6/1/21
AMC Raises $230 Million From Equity Sales for Acquisitions, Investments, Variety, 6/1/21
Movie Theaters Came Back with a Vengeance. But Will the Good Times Last?, NBC News, 6/2/21
Alamo Drafthouse Emerges From Bankruptcy, Plans to Open Five New Theaters, Variety, 6/1/21
Topics:
A Quiet Place Part II
,
Adam Aron
,
AMC Theatres
,
ArcLight Cinemas
,
Bow Tie Cinemas
,
Box Office
,
Cinema
,
Cinerama Dome
,
COVID-19
,
Cruella
,
Disney
,
Disney Plus
,
Godzilla vs. King Kong
,
HBO Max
,
Joseph Masher
,
Memorial Day
,
Movie
,
Mudrick Capital Management
,
Pacific Theatres
,
Paramount
,
Streaming
,
Theater
,
Universal
,
Warner Bros.