Yesterday The Wall Street Journal ran a report that insiders suggest Amazon is considering an ad-supported streaming TV and music-video service, separate from its $99-per-year Prime subscription service. Amazon reportedly outlined the proposed service to potential partners as one that could launch in coming months featuring original and licensed content. Amazon has since denied the plans. "We're often experimenting with new things, but we have no plans to offer a free streaming media service," said a spokesperson.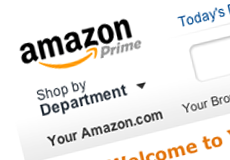 Amazon was said to have talked about the service with the creators of "Betas," a series co-produced by Amazon last year. It was also suggested that Amazon would offer free music videos via its retail website.
"Ad-supported video would be part of a broader move by Seattle-based Amazon to transform itself from a retailer into a force in multimedia," reports The Wall Street Journal. "The company dominates e-commerce, but rivals like Google's YouTube and Netflix have leapt ahead in streaming music and video. TV advertising is expected to generate $68.5 billion in the U.S. this year, estimates industry researcher eMarketer."
Last year Amazon spent about $1 billion on licensing content and producing original programming. Ad-supported streaming video could provide Amazon with a vehicle for earning some return on that investment. For example, YouTube generated about $5.6 billion last year through advertising.
"Amazon on Thursday invited media to an event in New York next week where it is expected to release a streaming-video device, to better compete with Roku, Google's Chromecast and Apple's Apple TV," notes WSJ. "That service will feature apps found on other set-top boxes like Netflix and Hulu, according to people familiar with the matter. The proposed ad-supported service and Amazon's streaming device may be an effort to entice customers to upgrade to Prime, which offers unlimited streaming video and two-day package delivery service."
Related:
Amazon Says it Has No Plans to Offer a Free TV and Music-Video Streaming Service, Variety, 3/27/14
Topics:
Ad
,
Advertising
,
Amazon
,
App
,
Apple
,
Chromecast
,
Commerce
,
Content
,
Delivery
,
Device
,
E-Commerce
,
eMarketer
,
Free
,
Google
,
Hulu
,
License
,
Licensing
,
Music
,
Netflix
,
New York
,
NYC
,
Online
,
Original
,
Prime
,
Production
,
Programming
,
Retail
,
Roku
,
Seattle
,
Series
,
Show
,
STB
,
Stream
,
Streaming
,
Subscribe
,
Subscription
,
Television
,
TV
,
Variety
,
Video
,
VOD
,
YouTube