Microsoft recently launched a new section on its website to provide the public with access to various projects in development. Microsoft Garage started in 2009 within the Office Labs group as a place for employees to work on innovative new ideas. Until last week, The Garage was largely an internal effort that supported side projects, hackathons and science fairs. The Garage is now offering public access to 16 free consumer-facing apps across Android, Android Wear, iOS, Windows Phone and Xbox One.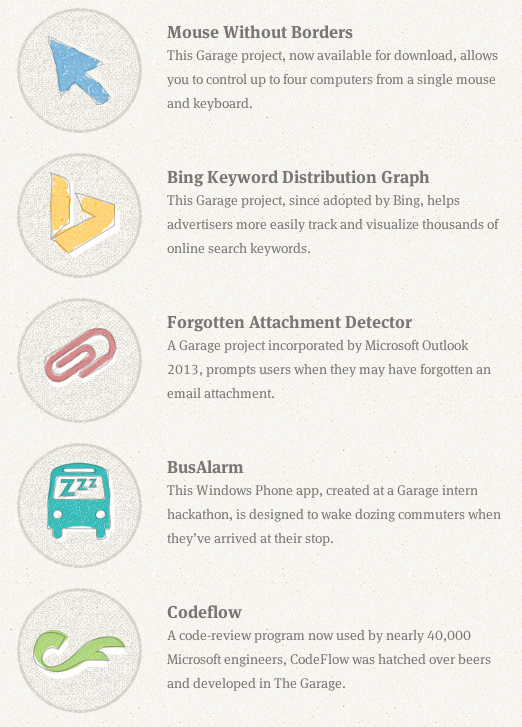 "The group now has 32 chapters around the world with about 10,000 active members," reports VentureBeat. "Microsoft Garage is still going to be everything it has been so far, but Microsoft has simply decided it's time for the public to get involved too: You can now test the wild projects the company's employees dream up."
According to a story on the Microsoft site, "Welcome to The Garage: Microsoft's After-Hours Idea Factory," some projects begin as "pure whimsy, while others become part of the company's products and services (see sidebar).
Apps currently listed in The Garage involve music creation, photo tagging, location tracking, social travel, connecting citizens to municipalities, even a game where you control an alien armed with a gigantic claw foraging for food.
Some of the apps were created during hackathons, others as side projects, while some were formally sponsored by business teams. Individual employees, product groups, and even interns initiated the projects.
Apps are first reviewed by Microsoft employees so that suggestions can be made to developers prior to an app or game going to a store. From now on, the company will also gauge how the public responds.
"This will come in the form of explicit feedback (such as what users are saying on social channels and in app reviews) as well as implicit feedback (all the apps are instrumented, so Microsoft can learn from their actual usage)," notes VentureBeat.
"The next chapter is putting these projects in the hands of real customers to help us make better driven decisions about future plans," said Jeff Ramos, manager of Microsoft Garage.
Topics:
Advertisers
,
Android
,
Android Wear
,
Apps
,
Bing
,
CodeFlow
,
Developers
,
Games
,
Gaming
,
Hackathons
,
iOS
,
Jeff Ramos
,
Microsoft
,
Microsoft Garage
,
Microsoft Outlook
,
Mobile
,
Mouse
,
Music
,
Office Labs
,
Operating Systems
,
Photo Tagging
,
Photos
,
R&D
,
Search
,
Social
,
The Garage
,
Windows
,
Windows Phone
,
Xbox One