Quora, the community-powered question-and-answer site, is becoming one of the latest online spaces for Hollywood to find ideas. Emmy Award-winning producer Josh C. Kline optioned an idea on Quora, in which a dystopian U.S. spirals into a second Civil War. Kline is in the process of pitching a TV show inspired by the Quora response, written by retired U.S. Marine Sergeant Jon Davis. The Quora company has no plans to profit from any talent discovery on its site.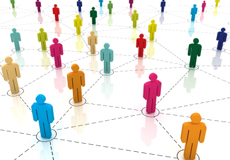 Davis wrote this tale of the second American Civil War in response to this question posted on Quora: "If every state of the USA declared war against each other, which would win?" His 6,000-plus response, including color-coded maps, received more than 1,800 upvotes.
Kline is the head of media & entertainment at Box, a cloud content collaboration company. He was impressed with Davis' answer because it was not a literal response to the Quora question; it was a complete story.
"The story just pulled me in and the guy's voice was so interesting that right away I could see it being a film project," said Kline, who struck a deal with Davis to option the idea and signed on to be a producer of the potential TV show. Davis, a full-time teacher does not want to be involved with the screenwriting, but he will probably receive a consulting credit.
The website itself has no plans to profit from the ideas around over 500 topics. "Quora is a great platform for talented actors and creators to share what they know about a creative property or about the creative process," a Quora spokesperson told Variety. "We're happy when our writers are discovered in this way, but, no, we don't participate in these arrangements and we don't anticipate doing so in the future."
Topics:
Answers
,
Box
,
Civil War
,
Community
,
Crowdsourcing
,
Discovery
,
Emmy Award
,
Hollywood
,
Jon Davis
,
Josh C. Kline
,
Online
,
Producer
,
Profit
,
Q&A
,
Questions
,
Quora
,
Response
,
Screenwriting
,
Social Media
,
Story
,
Talent
,
Television Series
,
TV Show
,
Upvotes