Microsoft hasn't given up on HoloLens. The company believes it is more suited for corporate training than gaming, and now Japan Airlines is using it is a good example of that. Two years ago, the Japanese company sent pilot Takashi Wada to Microsoft headquarters to try out the HoloLens; now he teaches HoloLens-equipped trainees how to flip virtual switches in a cockpit, prior to using flight simulators. Microsoft isn't alone in pursuing such applications, with Alphabet, Apple and Facebook following suit.
The Wall Street Journal reports that, according to Forrester Research, "last year, U.S. businesses used about 400,000 'smart glasses' … including eyewear with tiny screens such as Alphabet's Google Glass and devices such as HoloLens."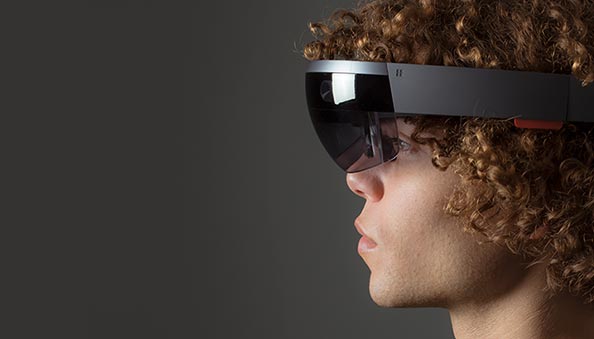 Forrester predicts that, by 2020, there will be 6.4 million smart glasses in the market, which will more than double to 14.4 million by 2025. Currently the market includes everything from the HoloLens AR device to Facebook's VR headset Oculus Rift. Alphabet's Google Glass hit a rough patch, but is now available as a version for corporate clients, with DHL as an early adopter. Apple also released an SDK for AR apps.
Although HoloLens initially debuted as a project from that company's Xbox gaming division, Alex Kipman, an executive on the team, admits that, "the market for higher-end virtual-reality devices … has been slow to develop." But businesses showed enthusiasm for the HoloLens, which costs $3,000 to $5,000.
"You have to pay attention to signals," said Kipman. That includes Japan Airlines, which says using its 10 HoloLens devices helps to "more efficiently use its flight simulators, which run roughly $880 an hour to use." Trainee pilots are able to learn so much via the HoloLens that they're able to spend less — and more productive — time in the simulators.
Microsoft announced 29 new markets for the HoloLens, including Denmark, Spain and Turkey. That's an expansion from 10 countries, "including the U.S., China and the United Kingdom, where it is currently available." The growth of HoloLens as a corporate product "could drive the price for a consumer version below $1,000 in two years," predicts Forrester.
Topics:
Alex Kipman
,
Alphabet
,
App
,
Apple
,
Augmented Reality
,
China
,
Corporate
,
Denmark
,
DHL
,
Eyewear
,
Facebook
,
Flight Simulators
,
Forrester Research
,
Gaming
,
Google Glass
,
HoloLens
,
Japan Airlines
,
Microsoft
,
Oculus Rift
,
Pilots
,
SDK
,
Smart Glasses
,
Spain
,
Takashi Wada
,
Training
,
Turkey
,
United Kingdom
,
Virtual Reality
,
VR Headset
,
Wearable
,
Xbox