On August 2, Microsoft's Xbox One S will be available for $399. The new console is 40 percent smaller than the Xbox One, offers a tidy built-in power supply, and is capable of standing vertically, a throwback to older Xboxes. The Xbox One S is also more powerful, with a faster processor that, for the first time, provides 4K video for streaming Netflix and Amazon Video, and high dynamic range (HDR), as well as the ability to play Ultra HD Blu-ray discs. But only users with 4K TV sets will be able to see the difference.
The Wall Street Journal notes that the Xbox One S will also upscale HD (1080p) games to 4K, again only visible to users with a 4K TV set. "Otherwise, the Xbox One S is the same console as the original Xbox One. Both systems will play the same games, run the same apps for streaming music and video, and offer a very similar user experience overall."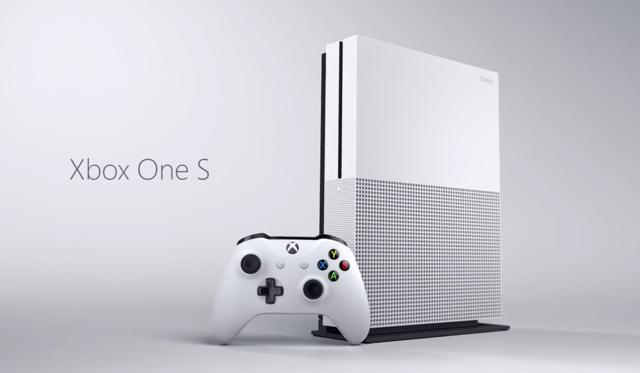 Both platforms will get a software upgrade next month adding Microsoft's virtual assistant Cortana. The current Xbox One S, for $399, is a 2TB version; in coming months, a 1TB version will be available for $349, and a 500GB version for $299.
But, notes WSJ, the Xbox One S is "a stopgap console" for Microsoft, which has plans to launch what it calls "the most powerful console ever built," now code-named Project Scorpio. This new platform will not only support 4K and HDR video and gaming, but also virtual reality. Microsoft has not yet announced which VR headsets Project Scorpio will support.
For users who want a lighter, more compact version of the Xbox One, buying the Xbox One S makes sense, adds WSJ. But those looking for VR along with 4K and HDR might do better to wait for Project Scorpio.
Currently, Microsoft's Xbox One "lags behind" Sony's PlayStation 4, "both in technology and in sales." As of May, Sony has sold more than 40 million PlayStation 4 consoles; although Microsoft hasn't reported sales figures since fall 2014, analysts estimate the company has sold 20 million Xbox One consoles.