Microsoft continues to merge the desktop PC and game console experience by making its updated Chromium-based Edge browser available for Xbox One and Xbox Series X/S platforms. The update lets Xbox owners stream Google Stadia games and access Steam PC or web games like "Krunker" or "QuakeJS" from the comfort of a browser housed within your console dashboard — no third-party hardware or software hacks required. Users can also access subreddits, social media and Discord on the web to join voice calls and text channel chats with mouse and keyboard support on current and last-gen Xbox consoles.
"This isn't a half-baked port. It's the full-fat Edge PC experience" with a browser that looks nearly identical to that available on PC or Mac, writes TechSpot. "It even includes features like vertical tabs and Collections. Like Edge on PC and mobile, the Xbox version also syncs all your settings, favorites, tabs, and web history," observes The Verge.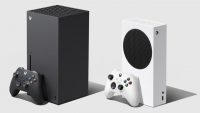 Missing are extensions, the ability to switch to developer mode to change User Agent strings or access a console, microphone support for Discord and access to Nvidia's GeForce NOW streaming service. "We've asked Nvidia multiple times why it continues to block Edge in general, but the company only said in April that it's simply 'investigating Edge browser support for the future,'" The Verge notes.
The perspective from TechSpot is that consoles have become akin to PCs with the release of the Sony PlayStation 5 and Xbox Series X/S, packing "SSDs, multitasking features, speedier boot times, and older, but still PC-like functions like web browsing and Netflix playback" but that with this Edge update Microsoft has blurred the lines even further.
TechSpot sums up, "this is a fantastic idea on Microsoft's part. Xbox customers can still enjoy the simplicity and convenience of console gaming with the ability to perform some tasks you'd normally only be able to do on a phone or PC."
Related:
Xbox's New Edge Browser Supports Keyboards, Stadia and Discord, Eurogamer, 9/24/21
Xbox's New Internet Browser Is Out Now and It's a Major Improvement, Pure Xbox, 9/24/21
You Can Use Office on the Xbox Series X/S with a Mouse and Keyboard, Windows Central, 9/24/21
Microsoft Starts Testing xCloud Integration on Xbox Consoles, The Verge, 9/28/21
Dolby Vision Gaming Launches First on Xbox Series X and S, The Verge, 9/28/21