Microsoft has made a nearly $70 billion offer to buy Activision Blizzard in a move that will bolster its Game Pass franchise, instantly expand its reach in mobile gaming, and create a content platform for the consumer virtual worlds that are expected to be big business in coming years. Statista estimates the global gaming market generated just over $178 billion in revenue in 2021, more than PwC projections for video streaming (almost $59 billion) and box office ($23 billion) combined. When the transaction closes, Microsoft says it will be the world's third-largest gaming company by revenue, behind Tencent and Sony.
The all-cash transaction totals $68.7 billion, far exceeding the record $11 billion set last week by Take-Two Interactive's bid for Zynga. "Gaming is now the largest and fastest-growing form of entertainment," Microsoft said in its announcement.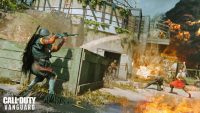 By 2025 gaming will be a $268.81 billion business (per Statista), with streaming and cinema raking in a combined $124.6 billion according to PwC (forecasting $81.3 billion and $43.3 billion, respectively, and $194.4 billion for games). Games benefitted from the COVID-19 pandemic.
"Technology companies are swarming around the industry, looking for a bigger share of attention and money from the world's three billion gamers," writes The New York Times.
In an industry fueled by big franchises, "Activision makes some of the most popular titles, including 'Call of Duty' and 'Candy Crush,'" NYT notes.
Microsoft believes the Activision Blizzard catalog "will play a key role in the development of metaverse platforms," chairman and CEO Satya Nadella said in the company's announcement. "We're investing deeply in world-class content, community and the cloud to usher in a new era of gaming that puts players and creators first and makes gaming safe, inclusive and accessible to all."
Microsoft says Activision Blizzard CEO Bobby Kotick will continue to serve in that capacity, reporting to Microsoft Gaming CEO Phil Spencer once the deal closes, which Microsoft expects to happen by mid-2023.
The deal is subject to regulatory review, which in the current climate should not be viewed a given. However, unlike the social media companies Congress has raked over the coals this past year, Microsoft managed not only to avoid censure, but to make itself a valuable ally in the nation's defense against cybercrime.
The Wall Street Journal reports that "buying Activision would increase Microsoft's video game revenue by about half. Analysts estimate that Activision's sales in 2021 totaled $8.7 billion, according to FactSet, while Microsoft reported $15.4 billion in gaming revenue for the fiscal year through June, accounting for about 9 percent of its total."
In addition to its Xbox One console business, Microsoft publishes PC games and also has the cloud subscription service Game Pass. While the company has had success with the HoloLens 2 augmented reality headset in the B-to-B space, the company has no consumer virtual reality headset — a seemingly integral component for today's visions of the metaverse — but VR headsets from manufacturers including Meta, HTC, Samsung and Sony are compatible with Xbox One.
Related:
'New Eyes': Gamers Greet Microsoft's Activision Deal with Guarded Optimism, The New York Times, 1/18/22
Microsoft's Activision Deal May Bring 'Metaverse' to Enterprise Tech, The Wall Street Journal, 1/18/22
Microsoft's Activision Blizzard Deal to Power Its Netflix-of-Gaming Aspirations, The Wall Street Journal, 1/19/22
It's Not Complicated. Microsoft Wants Activision for Its Games, The New York Times, 1/19/22
Topics:
Activision Blizzard
,
Augmented Reality
,
Bobby Kotick
,
Call of Duty
,
Candy Crush
,
Cloud
,
COVID-19
,
FactSet
,
Game Pass
,
Gaming
,
HoloLens 2
,
HTC
,
Meta
,
Metaverse
,
Microsoft
,
Mobile Gaming
,
Phil Spencer
,
PwC
,
Samsung
,
Satya Nadella
,
Sony
,
Statista
,
Take-Two Interactive
,
Tencent
,
Virtual Reality
,
Xbox One
,
Zynga