Amazon Style, an IRL clothing store, will open in Los Angeles later this year. The 30,000-square-foot retail establishment, located in Glendale's upscale Americana at Brand open-air mall, will feature high-tech dressing rooms from which shoppers can electronically summon items as Amazon attempts to address the "pressure points" of traditional clothes shopping. Amazon has been experimenting with physical retail since 2015 when it opened a bookstore in Seattle. In 2017 it purchased the Whole Foods grocery chain for $13.7 billion, and has since then experimented with various formats, including "grab-and-go" convenience stores.
Amazon Style "will feature women's and men's apparel, shoes, and accessories from a mix of well-known and emerging brands, with prices catering to a wide range of shoppers," reports CNBC. "You'll find everything from the $10 basic to the designer jeans to the $400 timeless piece. We want to meet every budget and every price point," said Amazon Style managing director Simoina Vasen.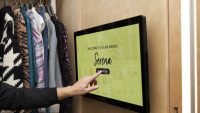 The new Amazon store will be housed alongside a Nordstrom, J.Crew, H&M and other brick-and-mortar establishments that presumably were impacted by Amazon's online sales. "There's a JCPenney across the street, one of the most prominent casualties of the transformation of U.S. retail spurred by Amazon," notes CNN.
Amazon Style makes smartphones an integral part of the shopping experience. "When shoppers walk into the store, they'll see 'display items,' featuring just one size and color of a particular product" and will have to scan a QR code to get information on size and color availability from an Amazon app, CNBC writes. Shoppers can then click a button to send the item to a fitting room or pickup counter.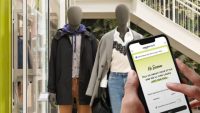 Although Amazon earning reports don't break out individual retail categories, it's clear the company has made apparel sales a focus in recent years. Last year, Wells Fargo reported that Amazon eclipsed Walmart as the No. 1 clothing retailer in the U.S., estimating 15 percent year-over-year growth in apparel and footwear sales for a total of more than $45 billion.
In September, reports surfaced that Amazon was preparing to launch a physical clothing store, with speculation that the destination would largely focus on Amazon's own "white label" offerings. In July of 2019, Amazon told Congress its inventory contained approximately 158,000 private brand products, about half in the clothing and footwear categories, according to EcomCrew.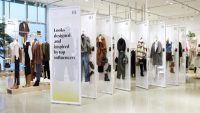 In 2019 Amazon launched The Drop, which "partners with influencers to design of-the-moment, limited-edition collections" available for "30 hours or less," per the company, which may hint at the type of offerings that will show up at Amazon Style.
In December, The Tech Portal wrote that Amazon.com's Marketplace for third-party sellers, many of them clothiers, is "Amazon's most profitable segment as well as its fastest-growing revenue stream," citing Institute for Local Self-Reliance data showing Marketplace generated "nearly $121 billion from fees and advertising payments" in 2021, up from $60 billion in 2019, exceeding revenue from Amazon Web Services (AWS), pegged at $13.5 billion in 2020.
Topics:
Amazon
,
Amazon Marketplace
,
Amazon Style
,
Americana at Brand
,
Apparel
,
AWS
,
Clothing
,
Congress
,
Glendale
,
H&M
,
ILSR
,
J.Crew
,
JCPenney
,
Los Angeles
,
Nordstrom
,
Private Label
,
QR Code
,
Retail
,
Simoina Vasen
,
Smartphone
,
The Drop
,
Walmart
,
Wells Fargo
,
Whole Foods