Streaming games have taken a step forward. Microsoft is tapping its Research division and 54 global regional Azure data centers for Project xCloud, which aims to transform the Xbox from a box into a hub. The company hopes to test it publicly in 2019. Meanwhile, Google is beta-testing Project Stream, which streams games over the Internet via the Chrome browser. Although gaming boasts 2.3 billion players, console makers are now second place to mobile games, which are responsible for more than half of this year's $138 billion revenue.
Wired reports that, to succeed, Microsoft has to overcome the technological challenges of streaming games. Graphics-heavy interactive games like "Overwatch" require 33.3-milliseconds for a 30 fps game (and half that for 60 fps), which is why streaming AAA games on non-AAA devices has been and is a non-starter. Microsoft, however, has its Azure data centers around the world, which "will become key to being able to stream a game experience to a connected device."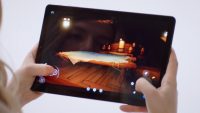 It still won't be easy, because the Xbox will have to encode, compress, distribute and handle inputs from multiplayer activity on a frame-by-frame basis, calculating physics, lighting and audio among other elements — all while using as little Internet bandwidth as possible.
Microsoft Research is responsible for "trying to make Project xCloud efficient enough to run on a 10 megabits-per-second Internet connection, which means you'd be able to play using a 4G LTE connection in virtually every major market in the U.S." Microsoft has targeted 2019 for testing the service publicly.
While Microsoft corporate VP of gaming cloud Kareem Choudhry did not name a date when Project xCloud would debut as a service, he stressed that the goal is to be able to put all 3,000 Xbox One games to the cloud and to make the experience "indistinguishable from any other game you're playing."
The Verge reports that Google is beta-testing its Project Stream, which streams games over the Internet with the Chrome browser. A reviewer stated that, "Project Stream is straightforward and doesn't change the experience of using Chrome, so you can have Google Drive open in one tab while playing a AAA video game in the next." The game can lag occasionally depending on how robust the Wi-Fi is, but if the computer is plugged into an Ethernet port "it runs without a hitch." Project Stream is free at this stage, and the beta test ends on January 15, 2019.
"This might turn out to be a big deal for Google and video game publishers, if the performance could be more consistent or if you could control video settings, as it would bring AAA games to an audience that previously couldn't run them at all." Currently, not every Chromebook can handle Project Stream.