Meta's Reality Labs division has previewed a haptic glove designed to give the user sensation of handling a real object when manipulating things that only exist digitally in virtual space. Reality Labs, a division of Facebook prior to that company's renaming as Meta Platforms, has spent seven years working on a haptic glove prototype, now rolled into Meta's announced 2021 spending of $10 billion to develop hardware, software and apps for the metaverse — an AR/VR fused world conjured through digital sight, sound and touch. Companies including HaptX, Hi5, Manus and SenseGlove have also demonstrated haptic gloves, an increasingly competitive field.
"What we're trying to do is figure out how to give you rich feedback so that your hands become fully useful," Reality Labs chief scientist Michael Abrash said in Wired. "This is a key piece and one of the hardest, long-term riskiest pieces, but once this is in place, then VR can really become an environment in which almost anything is possible that you are effectively capable of doing."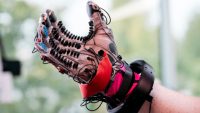 Abrash says the glove is not yet close to being commercially released.
The Verge describes Meta's haptic glove prototype as "lined with around 15 ridged and inflatable plastic pads known as actuators" that are designed to fit along the inside of a wearer's hand, from the palm out to the fingertips. The glove also functions as a VR controller.
"The back features small white markers that let cameras track how the fingers move through space, and it's got internal sensors that capture how the wearer's fingers are bending," notes The Verge, explaining how the technology draws on a field of research called "soft robotics," in which an array of tiny air valves is substituted for bulky metals.
"When you put on the glove and enter a VR or AR experience, a sophisticated control system adjusts the level of inflation, creating pressure on different parts of your hand," The Verge writes. "If you're touching a virtual object with your fingertips, you'll feel the sensation of that object pressing into your skin. If you're gripping a virtual item, the long finger actuators will stiffen, creating a sensation of resistance. These sensations work alongside visual and audio cues to produce the illusion of physical touch."
Controllers, such as those included with Oculus Quest 2, allow users to navigate game menus or through space while wearing a VR headset, but don't provide the tactile experience of touch.
Related:
VR Glove Startup Says Meta's Recently Unveiled Prototype Is 'Substantively Identical' to Their Own Device, TechCrunch, 11/17/21