After Facebook promised in July that it would limit its algorithms that track online behavior of users under 18 as a step toward curtailing a method used by advertisers to target children and teenagers, the social giant is again being accused of collecting such data. Facebook was found harvesting data of young users through its ad delivery system, according to a report published by advocacy groups Fairplay, Global Action Plan and Reset Australia. The research suggests that Facebook is maintaining the ability to track younger users so that it can maximize engagement and increase advertising revenue.
On July 27, Facebook announced that it would "only allow advertisers to target ads to people under 18 (or older in certain countries) based on their age, gender and location." The company specified that its tech would no longer assist advertisers in targeting young users based on their activity on other websites and apps.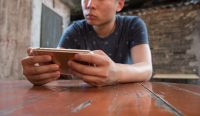 However, Reset Australia researchers joined a journalist in setting up Facebook accounts as teenagers and reportedly learned that the social network is still using AI to track user behavior, regardless of age.
The social giant "stands accused of failing to make a meaningful change to protect some of its most vulnerable users from hyper manipulative marketing — opting instead for a misleading ploy of stripping out a layer of targeting control from advertisers," reports TechCrunch.
Facebook has been facing increased scrutiny since former employee and whistleblower Frances Haugen leaked internal documents and testified before Congress and the SEC about the social network's questionable practices. One of the concerns regarding Facebook and Instagram has been the negative effects on teens and children.
"Advocacy groups say gathering data through AI to serve teens advertising is 'especially concerning' because a teenager with an eating disorder or struggling with mental health issues might see weight loss ads," notes CNET.
In an open letter to Facebook CEO Mark Zuckerberg, 46 advocate groups worldwide requested that Facebook "immediately end all surveillance advertising to children and adolescents, including the use of artificial intelligence to optimize the delivery of specific ads to the young people most vulnerable to them."
In response to the report, a Facebook spokesperson said, "We don't use data from our advertisers' and partners' websites and apps to personalize ads to people under 18. The reason this information shows up in our transparency tools is because teens visit sites or apps that use our business tools. We want to provide transparency into the data we receive, even if it's not used for ads personalization."
Topics:
Advertising
,
Algorithm
,
App
,
Artificial Intelligence
,
Congress
,
Consumer Protection
,
Facebook
,
FairPlay
,
Frances Haugen
,
Global Action Plan
,
Instagram
,
Internet
,
Machine Learning
,
Mark Zuckerberg
,
Marketing
,
Meta
,
Privacy
,
Reset Australia
,
SEC
,
Security
,
Social Media
,
Teens
,
User Data
,
Whistleblower