An array of companies that produce digital online content are offering presentations, parties, goody bags and more this week in New York City as part of their efforts to draw advertising dollars from marketers and agencies. Similar to how the TV upfront season works, media companies presenting at the Digital Content NewFronts are pulling out all the stops to showcase new series and programming ventures for Madison Avenue.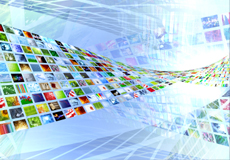 "So eager are those companies to woo the television crowd that they are sponsoring this week, under the aegis of the Interactive Advertising Bureau, five mornings, afternoons and evenings of events, receptions and parties under the banner of the Digital Content NewFronts," reports The New York Times. "To underline the difference, the official logo for the event depicts the words 'Upfronts' with the 'Up' crossed out and replaced by 'New.'"
According to the article: "Four companies opened the week on Monday: two digital media specialists, Microsoft and Yahoo; the Weather Company, which considers itself an expert in content on four screens: television, computers, smartphones and tablets; and The Wall Street Journal, which sought to draw attention to its video content and advertising with an event that Journal executives called Newsfront 2013. (Upfronts, NewFronts, Newsfront — it can get pretty confusing.)"
WSJ execs noted the amount of inventory available through offerings such as WSJ Live and WorldStream, while promoting new content.
"The executives announced video initiatives that include 'WSJ Startup of the Year,' an episodic documentary for WSJ Live, sponsored by the New York Stock Exchange and evocative of a reality competition series," explains the article. "Starting on June 24, 25 entrepreneurs will work with more than two dozen mentors like Richard Branson, Tory Burch and MC Hammer; the recommendations of the mentors, and viewer votes, will guide editors of The Journal as they winnow the contenders and select a winning start-up."
"There's a lot of unique content you can only do in digital," said David Kenny, chairman and chief exec at the Weather Company, adding that there are ad buyers who now seek both television and digital. "And for us, a big leader in mobile, showing what mobile can be is important," he said. "The mobile audience is here, and wouldn't be at a cable upfront."
While dancers and acrobats dressed in gold body suits gyrated to thumping house music at the Microsoft event, electronic dance music firm One Beat announced a series of new shows that will target a young audience. "It's all about the millennials," said Mikhail Lapushner, chief exec at One Beat.
"One Beat, in partnership with Xbox, the Microsoft video game system, will create and distribute original content for the Web," notes NYT. "Among the shows previewed were 'Keep It Moving,' which chronicles the lives of four up-and-coming music promoters."
Topics:
Ad Buyers
,
Advertising
,
Branson
,
Burch
,
Cable
,
Digital Content NewFronts
,
IAB
,
Microsoft
,
New York
,
NewFronts
,
NYC
,
NYSE
,
Streaming
,
Television
,
TV
,
Upfronts
,
Video
,
Weather Channel
,
Weather Company
,
WSJ Live
,
Xbox
,
Yahoo