Video-streaming set-top box maker Roku is planning to launch its anticipated Streaming Stick with Wi-Fi remote next month for $49.99. The thumb-size media stick plugs into a television's HDMI port and offers a similar interface available through the Roku set-top boxes with access to a host of online streaming services. A simple solution to make your TV smart, the Roku Streaming Stick will compete with the popular $35 smartphone-controlled Chromecast device from Google.
The Streaming Stick "has Wi-Fi, supports 1080p high-definition video and can pull in movies from Netflix, Amazon, Hulu and others, plus music from providers such as Spotify and Pandora," reports The Wall Street Journal. "It doesn't draw power from the HDMI jack, so you have to run a cable from the Roku stick into a USB port on the TV for juice. (Most TVs have had USB ports for the better part of a decade.)"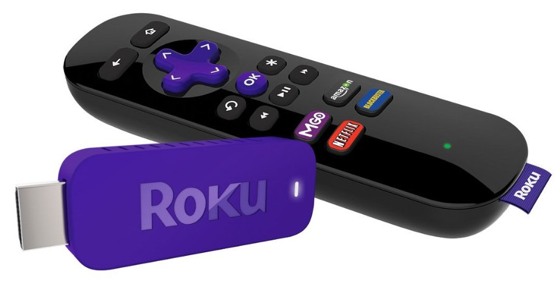 Roku fans looking to play games using the motion-sensing remote, plug earbuds into the remote, or connect to a network via wired Ethernet will want to stay with the $99 Roku 3 Streaming Player.
Google's Chromecast and the Roku Streaming Stick can both be controlled with a smartphone app, but Roku's device is slightly more expensive "because it also comes with a Wi-Fi remote control," notes WSJ. "You can access everything up on the big screen instead of staring down at your phone, and when you need to pause a show in a hurry, you just press a button, instead of rooting around for the right app."
In its initial Streaming Stick v. Chromecast comparison, CNET evaluates the strengths and weaknesses of both devices, offering the following:
Apps — Roku in a landslide
Price — $35 Chromecast is irresistibly cheap
Remote — Roku has the flexible approach
Screen Mirroring — Chromecast, when it works
Search — A surprising lead for Roku
Hardware — Dead even
Personal Media — It's a tie
CNET plans a more extensive shootout, but based on the current spec sheets, Roku has "the early edge: more apps, a traditional remote, and an excellent cross-platform search seems worth the extra $15, especially for a device you'll use frequently. But the good news is, whether you go Roku or Chromecast, both streaming sticks are excellent values only likely to get better as they continue to receive software updates."
Visit Roku online for additional information or to pre-order the Streaming Stick.
Topics:
1080p
,
720p
,
Amazon
,
Android
,
App
,
Chromecast
,
CNET
,
Connect
,
Connected
,
Dongle
,
Ethernet
,
Film
,
Fob
,
Game
,
Google
,
Hardware
,
HBO GO
,
HD
,
HDMI
,
Hulu
,
Internet
,
iOS
,
Mirroring
,
Movie
,
Music
,
Netflix
,
Online
,
Pandora
,
Phone
,
Player
,
port
,
Remote
,
Roku
,
Roku 3
,
Screen
,
Search
,
Set-Top Box
,
Smartphone
,
Software
,
Spotify
,
STB
,
Stick
,
Stream
,
Streaming
,
Tablet
,
Television
,
TV
,
UI
,
USB
,
Video
,
VOD
,
Wi-Fi