Wacom and Magic Leap, whose partnership was announced last October at the first L.E.A.P. developers' conference, have debuted a prototype of their collaborative design tools. Two years in the making, the tools consist of a Magic Leap One headset connected to a Wacom Intuos Pro pen tablet. Designers use a separate Pro Pen 3D stylus to control content on a Spacebridge platform that streams 3D data into a spatial computing environment. The system, which was on display at CES 2019, allows multiple people to interact with 3D models.
The Verge reports that users can collaborate in viewing, scaling, moving and sketching in the same environment, with the goal of an intuitive process. The companies foresee the system being used for a wide range of industries, from automotive and industrial to film and video games. A Verge reporter had a chance to try out the system at CES, overseen by Wacom's Amber Goelst, and was "pleasantly surprised by how well the images seemed to be integrated into the physical space, and how natural the experience felt."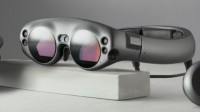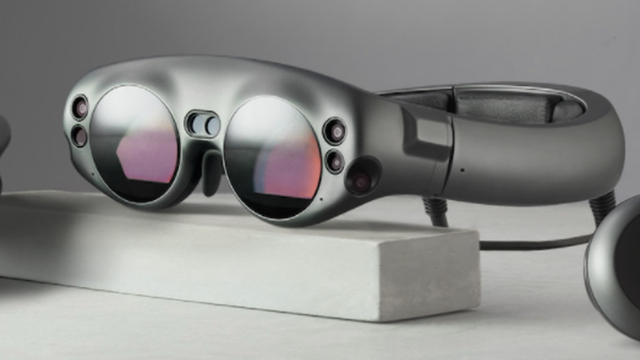 Although "Magic Leap One's 50-degree diagonal field of view might feel small or constrained for immersive games or full-room experiences like Tonandi," the reporter noted that, "you're basically looking at a computer screen in AR, so the expectations aren't as high for an immersive experience."
Goelst pulled up a 3D rocket ship design between the two, and the reporter used the Intuos tablet and stylus to interact with it, with options including "move, color, and pen tools."
"I could instantly understand how this could be used in real-world applications," she said. "The headset creates the digital objects you're looking at using a polygonal mesh, which allows the pen stylus to scale and move them seamlessly. It also allows for inking on real and digital objects."
The conclusion? The partnership "signals [Magic Leap] may be serious about creating collaborative environments that are actually useful for professionals."
Variety reports that Magic Leap also will be hiring a senior software engineer for mobile AR, with the task for "expanding Magic Leap's platform to mobile devices." The job listing notes that the engineer will "help build a cross-platform framework that enables large scale shared AR experiences between mobile devices (iOS, Android) and Magic Leap devices," and specifies that applicants should have experience with ARKit and ARCore.
At Magic Leap's developer conference last year, chief content officer Rio Caraeff said to a Variety reporter that "this type of interoperability would be key to taking Magic Leap out of the home, and into shared spaces." "If there's a 500-foot tall dragon in Central Park, you know we all want to see the dragon, not just the people with Magic Leap," he said. "And so we need an interoperability solution." He added that, "mobile AR could help to educate developers about the technology."
Topics:
3D
,
Amber Goelst
,
Android
,
AR Headset
,
ARCore
,
ARKit
,
Augmented Reality
,
CES 2019
,
Design Tools
,
Gaming
,
Intuos Pro
,
iOS
,
L.E.A.P.
,
Magic Leap
,
Magic Leap One
,
Mobile AR
,
Pen Tablet
,
Polygonal Mesh
,
Pro Pen 3D
,
Prototype
,
Rio Caraeff
,
Spacebridge
,
Tablet
,
Tónandi
,
Video Game
,
Wacom