At its L.E.A.P. developer conference in Los Angeles, Magic Leap outlined its plans for the future, which include software updates for the Magic Leap One headset as well as the ability to use two controllers, city-wide AR information layers and, possibly, a "Burning Man-style" gathering of developers in the desert. ILMxLAB also revealed at L.E.A.P. that it plans to release "Star Wars: Project Porg," an augmented reality experience for the Magic Leap One headset, in time for the December holiday season.
Variety reports that, in addition to the ability to use two controllers, Magic Leap One's updates will include support for iris biometric login sometime in early 2019, as well as support for JavaScript development tools named Magicscript. Magic Leap chief content officer Rio Caraeff also revealed that the Magic Leap One headset availability will expand to five cities across the U.S.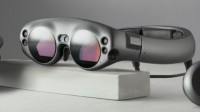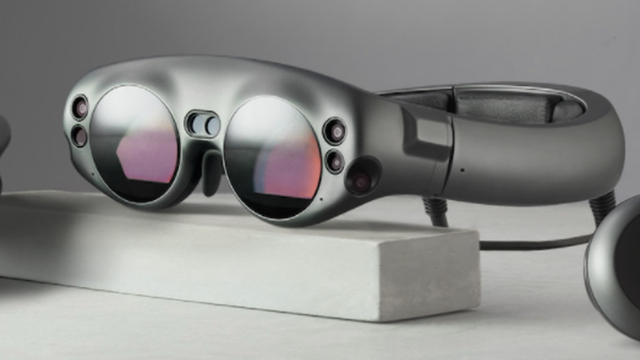 The company plans to "launch Avatar chat, a multi-user chat room with personalizable avatars, in November." Magic Leap also posted a $200,000 reward for developers reporting bugs to the company.
Magic Leap chief executive Rony Abovitz hinted that the company is working on "city-wide AR information layers." "Think of the city having a form of sentience and awareness," he said. "There are actually city-scale projects that we are engaged in as a company."
The company is also working on creating its own AI assistant, code-named Mica, which apparently has "human-like qualities." In addition, Abovitz mused about creating its own "version of Burning Man as a multi-day event for developers, complete with spirit journeys." AR experiences debuted at L.E.A.P. included Weta Workshop's "Dr. Grordbort's Invaders," Insomniac Games' "Seedling," and ILMxLAB's "Star Wars: Project Porg."
Elsewhere, Variety described what ILMxLAB has said about "Star Wars: Project Porg." "We strive to create experiences that are story-based, cinematic in their visual quality, and experiences that incorporate state-of-the-art interactive design," said ILMxLAB executive in charge Vicki Dobbs Beck. In the experience, the user is in charge of feeding and keeping track of "a handful of porgs."
The experience features the ability of users to "turn on a Sonos speaker, change the program on a TV set and turn on a fan, and then see the porgs react to each of these devices." Producer Mark Miller said that this is "just a first step for ILMxLAB to explore this new medium." Beck said ILMxLAB intends to target "high-end devices across AR and VR," including the upcoming Oculus Quest headset.
Engadget reports that, at L.E.A.P., AT&T and Magic Leap revealed more details about the deal inked a few months ago for Magic Leap headsets to run exclusively on AT&T's network. AT&T is slated to debut a DirecTV Now beta to Magic Leap One headsets in 2019, and will also have Magic Leap One headsets in stores this fall, to demonstrate WarnerMedia content.
AT&T will create a 5G test zone in Magic Leap's Florida campus, and is "hosting a Spatial Computing Hackathon in San Francisco in November to get more content creators on Magic Leap."
Related:
Magic Leap's Mica Is a Human-Like AI in Augmented Reality, VentureBeat, 10/10/18
Magic Leap Says Magicverse Will Connect LuminOS Apps and Rival Devices, VentureBeat, 10/10/18
Topics:
5G
,
AI Assistant
,
AT&T
,
Augmented Reality
,
Avatar Chat
,
Burning Man
,
DirecTV Now
,
Dr. Grordbort's Invaders
,
ILMxLAB
,
Insomniac Games
,
L.E.A.P.
,
Magic Leap
,
Magic Leap One
,
Magicscript
,
Mark Miller
,
Oculus Quest
,
Rio Caraeff
,
Rony Abovitz
,
Seedling
,
Star Wars: Project Porg
,
Vicki Dobbs Beck
,
Virtual Reality
,
WarnerMedia
,
Weta Workshop