Google debuted its third iteration of Pixel smartphones to rival high-end Apple and Samsung phones. The company also introduced a smart speaker with built-in display and a hybrid laptop/tablet. Although the hardware devices showcase Google's chops in AI and image processing, they haven't moved the needle on the company's sales or market share; its most popular hardware product is a wireless router. Google also unveiled Duplex, a human-sounding bot to be available on Pixel smartphones by the end of 2018 in a few U.S. cities.
The New York Times reports that Google's hardware "increasingly appears to be an expensive hobby." "There's some skepticism about how committed Google is," said Creative Strategies analyst Carolina Milanesi. "They are still nowhere near where they need to be to make a dent in the industry." Google responded that, "it remains focused on the long term … [and] put more stock in indicators like high customer satisfaction in its effort to build a loyal base."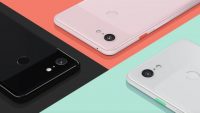 Google vice president of Pixel hardware Mario Queiroz said, "the company wants Pixel to be a blockbuster and to set the bar for devices running Android," and has invested accordingly. Last year, Google spent $1.1 billion to buy "most of HTC's smartphone design unit, with more than 2,000 HTC engineers moving to Google." The next month, it absorbed smart-home appliance maker Nest.
Pixel 3 phones, which will be available October 18, "have glass bodies to support wireless power charging," based on magnetic induction. The $799 model has a 5.5-inch screen, and the $899 Pixel 3 XL has a 6.3-inch screen. They also offer Top Shot, a tool to capture a series of images and then use algorithms to recommend the best photo. This analysis is done on the phone, not in Google's cloud.
Google's latest Home speaker, priced at $149, features a built-in 7-inch screen and will go on sale October 22. Pixel Slate, the convertible laptop, runs ChromeOS, works with a digital stylus and will be available later in 2018 for $599.
Wired reports that Google's Duplex software will make restaurant reservation phone calls for users, in a voice that is "barely distinguishable from a person." Duplex will be available on Pixel smartphones in New York, Atlanta, Phoenix, and the San Francisco Bay Area. As a feature of Google Assistant, Duplex for now "will only call restaurants without online booking systems, which are already supported by the assistant."
According to a Google spokesperson, "the company now has a policy to always have the bot disclose its true nature when making calls." Duplex is notable for interjecting "ums," "ahs," and "umm-hmms," which, said Google executive Nick Fox, "are necessary to make Duplex calls shorter and smoother."
Google also stated that, "its assistant will soon be able to screen calls on Pixel phones," with an "unmistakably synthetic voice asking them to describe why they are calling." What the caller says will be conveyed as a live transcript on the phone's screen "so the recipient can decide whether to pick up, or call back."
Topics:
Android
,
Apple
,
Artificial Intelligence
,
Bot
,
Carolina Milanesi
,
ChromeOS
,
Creative Strategies
,
Duplex
,
Google
,
Google Assistant
,
Home Speaker
,
HTC
,
Image Processing
,
Laptop
,
Magnetic Induction
,
Mario Queiroz
,
Nest
,
Nick Fox
,
Pixel 3
,
Pixel 3 XL
,
Pixel Slate
,
Samsung
,
Smart Speaker
,
Smartphone
,
Tablet
,
Top Shot